This article is more than 1 year old
Suspected crypto-coin crook collared after emailing apology note to the cops rather than victim – shock claim
Phone nicked at airport, $15k in fun bux drained from wallet
A bloke was arrested and charged with identity theft after, it is claimed, he emailed an apology meant for his victim to a police detective.
Darren Carter, 29, of Blackwood, New Jersey, was charged with one count of first-degree identity theft last week, and is being held in a Connecticut jail where he faces trial at the Norwalk Superior Court.
The case dates back to April 17, when an unnamed fella, from Westport, Connecticut, reported that his phone had been pilfered while on a trip in California, and a crypto-coin wallet connected to the device had been drained of several thousand dollars in fun bux. The stolen dosh was transferred to a PayPal account, it is claimed.
"The victim reported that while traveling in California his cellular phone had been stolen in an airport," said the Westport Police Department in a statement. "A few hours after the theft of his phone, he became aware that $15,472.31 had been transferred out of his Coinbase account; an application in which crypto-currency is managed. It was learned that funds from this account were converted into United States currency which was then moved into a PayPal account."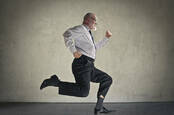 Eighty-year-old US 'web scam man' on the run after pocketing $250,000 in Dem 'donations'
READ MORE
The plod believe Carter was the person who stole the phone, accessed the wallet, and transferred the funds: for one thing, the suspected thief emailed a confession and apology meant for the victim to a police officer probing the four-month-long case, it is alleged. You may think Carter allegedly emailed the victim, who then passed on the sorry note to detectives, but no, according to the police, the suspected thief straight up emailed the plod. Perhaps, if these claims are true, he thought the cops would simply pass the message on to the victim?
"Among various financial transaction records allegedly connecting Carter to the crime, he additionally sent an apology email intended for the victim to the investigating detective," Westport PD noted.
"In this message he not only confessed to taking the victim's phone while he was also traveling in California, but additionally admitted to transferring the victim's Coinbase funds into a personal account."
The cops claim the tell-all email is not the only piece of evidence implicating Carter, as other transaction records also allegedly link him to the theft.
Either way, police say they were able to recover all of the stolen cash from PayPal and return it to the victim. Carter, who was being held at a New Jersey jail for an unrelated case, was extradited back to Connecticut for arraignment.
Carter remains behind bars as he was unable to meet the $150,000 bond. ®