This article is more than 1 year old
Google, YouTube cough up $170m to make that trifling little thing about slurping kids' info without consent go away
Ad giant gets slap on the wrist, promises not to do it again
Google, fighting a desperate battle to provide privacy that's not so private it blinds targeted advertising, has agreed to provide actual privacy, but only to those watching videos aimed at children.
On Wednesday, the US Federal Trade Commission said Google and its YouTube subsidiary will pay $170m to settle charges brought by the FTC and the New York Attorney General that the online video service gathered personal information from children without parental consent.
That's a record for penalties under the Children's Online Privacy Protection Act (COPPA) Rule and a rounding error for Google, which earned $30.74bn in pure profit last year.
COPPA gives children something that adults don't have in the US – privacy protection strong enough to prevent ad-oriented tracking. As Google has – at long last – discovered, using cookie files to track viewers younger than 13 and deliver targeted ads without parental permission may lead to a modest fine and a public scolding by regulators.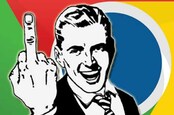 You ain't getting around UK data laws on a technicality, top judge tells Google
READ MORE
"YouTube touted its popularity with children to prospective corporate clients," said FTC Chairman Joe Simons in a statement. "Yet when it came to complying with COPPA, the company refused to acknowledge that portions of its platform were clearly directed to kids."
Not only did Google refuse to acknowledge the obvious fact that certain YouTube videos were aimed at kids, the web giant went so far as to deny its video site's audience included any children.
The complaint [PDF] against the two organizations explains, "[I]n response to one advertising company's questions regarding advertising on YouTube as it relates to a toy company and COPPA, Defendant Google's employee responded, 'we don't have users that are below 13 on YouTube and platform/site is general audience, so there is no channel/content that is child-directed and no COPPA compliance is needed.'"
As part of the settlement agreement, Google and YouTube have agreed to create and maintain a system that allows YouTube channel owners to declare content intended for children, so the two companies and their content providers can comply with COPPA. The two companies will also be providing COPPA training for employees who interact with channel owners.
More significantly, Google and YouTube have agreed to respect the privacy of anyone watching videos intended for children.
"Starting in about four months, we will treat data from anyone watching children's content on YouTube as coming from a child, regardless of the age of the user," said YouTube CEO Susan Wojcicki in a blog post.
"This means that we will limit data collection and use on videos made for kids only to what is needed to support the operation of the service. We will also stop serving personalized ads on this content entirely, and some features will no longer be available on this type of content, like comments and notifications."
Given that YouTube's comment section has a reputation as an infamous cesspool, that's a bargain price for privacy protection if you're in the mood for kid vids. ®