After banning adverts in command-line terminals, NPM floats idea of Patreon-style donations to open-source devs
Cash-burning biz sees itself following in the footsteps of GitHub Sponsors
NPM, Inc., the overseer of the widely used npm JavaScript package registry, hasn't been particularly supportive of worker complaints, but the would-be enterprise biz wants to lend a hand to open source contributors.
Following a software developer's recent experiment with ads delivered to the command line via npm-hosted packages – a testament to longstanding concerns about labor compensation and exploitation in the open source community – NPM said it intends to develop a funding platform for open source developers by the end of the year. The announcement comes as the biz revised its policies to forbid packages that "display ads at runtime, on installation, or at other stages of the software development lifecycle…"
In a blog post on Friday, CEO Brian Bogensberger said over the past few months, company engineers have been working on registry infrastructure so the biz can support services of this sort. This week, he said, company leaders "will be reaching out in order to get the expertise around the table with a goal of being able to share the framework by late September."
The project, undertaken at a time the cash-strapped biz is trying to build its enterprise business, appears to be not very far along.
NPM's entry into a market already served by Patreon, GitHub Sponsors, OpenCollective and Librapay elicited mixed reactions. While at least one NPM employee has said, evidently unbidden, that he's "stoked" about the project, those outside the company sound a bit more skeptical.
"Given that they also just [forbade] any funding prompts on installation by policy (if I recall correctly), even if the intent was good, it comes off as an attempt by NPM, Inc. to use they power over the Node.js ecosystem to rent-seek maintainers making money from their packages," software developer Linus Lee wrote in a tweet.
The Register asked NPM when it began work on its funding platform and whether it intends to generate revenue from it, but the company has not responded to our inquiries since mid-June when we reported on the company's initial refusal to settle labor complaints brought by three employees.
CJ Silverio, principal engineer at Eaze, former CTO at NPM and among the first ousted after Bogensberger took the helm last year, dismissed the funding initiative.
"NPM's announcement is a big nothingburger – we're supposed to stay tuned for some later capital-E 'Enterprise' proposal," said Silverio in a message to The Register. "I'll pay more attention if they ever announce anything concrete."
"The company is up against a problem they've been dancing around since their founding, which is how to get people to pay for something the industry taught them to expect for free," she elaborated. "NPM taught everyone that you can use a package manager to download and install software for free, so why would you pay for it?"
Silverio pointed to the rise of Linux as a cautionary tale, noting that it has outlived all the Unix versions that cost money. "Linux's freeness killed them all," she said. "Does the industry ever go backwards from free to paid?"
As long as software developers improve open source projects at no cost and allow companies to exploit their labor without compensation, perhaps not. But the issue, which has simmered since open source development began, has come to a boil over the past year or so as companies that coalesced around open source projects like MongoDB and Redis have expressed resentment about how cloud platform giants like Amazon, Google and Microsoft profit from their code without compensating the developers who created it.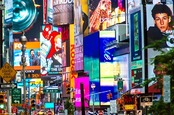 Developer reconsiders npm command-line ad caper after outcry
READ MORE
The unfairness of it all has not been lost on individual open source project maintainers who face demands for continuing code improvements without monetary recognition.
On Tuesday, Kat Marchán, former tech lead/architect for the NPM CLI, now working for Microsoft on the NuGet package manager, offered her vision for a more equitable and humane system that combines payment mechanisms with alternative software licenses like the Parity License to address what she calls an open source sustainability crisis.
In an explanatory post on dev.to, Marchán wrote, "maintainers are burning out, overwhelmed by the demands of an increasingly large community on a project they are usually only allowed to work on in their 'spare' time, while simultaneously being punished for any attempts at implementing more sustainable models, such as the recent advertisement-based funding controversy."
Via Twitter, she elaborated, "I want to see a world where free software contributors and collaborators, as well as maintainers, get paid for the labor they put into these projects that help drive so much of our economies. The current 'open source' system has to end, and it must be replaced by a more fair one." ®