This article is more than 1 year old
Acer and Asus unveil some of the world's heaviest laptops ... and some of its lightest
Gaming chairs, gaming phones, gaming laptops – and some delightful feather-light ones
IFA 2019 It was press day one at the annual consumer electronics megafest, IFA, in Berlin, when PC vendors Acer and Asus unveiled their latest hardware, from impossibly light and fast laptops to heavyweight monsters.
The way it works at IFA is that two press days run ahead of the main event itself, which is Europe's largest consumer electronics show. Acer traditionally grabs the first spot, and suppliers such as Intel, Microsoft and Nvidia turn up to praise the latest products. Then the press – including The Reg – dashes across the German capital to the Asus event, where often those same suppliers turn up again, being careful to enunciate "Asus" rather than "Acer" as they repeat much the same speech (mistakes have been known, but not this year).
Acer kicked off with four new Chromebooks, perhaps to remind Microsoft that it is not just a Windows world, highlighting the fact that they now come with Google Assistant, "an enhancement to our user experience". This is really a change made by Google to Chrome OS. More ominously for Microsoft, Acer made particular reference to enterprise and commercial take up for Chromebooks, though it remains a small sliver of Acer's overall business.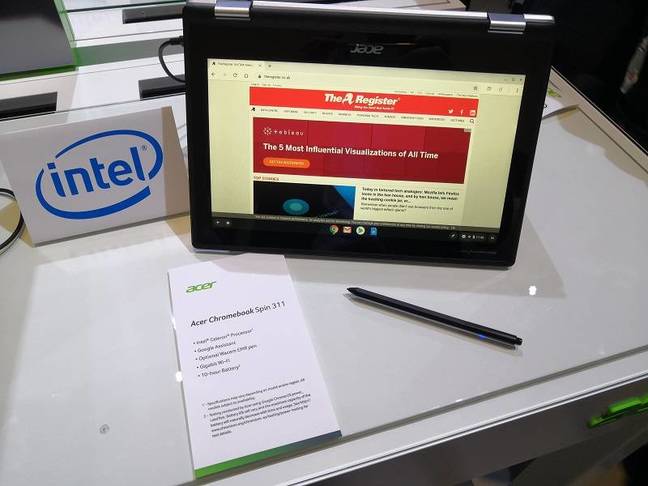 The Acer Chromebook Spin 311 has a 360° hinge and an optional stylus
That was the last we heard of Chromebooks. Acer moved on to Swift 5, a new 14" laptop which is among the lightest of business machines, weighing just 990g. 10th gen Intel Core i7 mobile, up to 12 hours battery life and discrete Nvidia GeForce MX 250 graphics make this a neat little device, with price expected to be around €899.
Intel's Project Athena, announced in January this year, aimed to improve laptop design with instant resume, faster connectivity, longer battery life, thinner form factors and AI-powered voice assistance. Sounds like the usual onward march of technology, but at Acer's event, Intel veep Steve Long turned up to hype not only Project Athena but also the 10th gen Intel processors, now available for mobile with integrated Wi-Fi 6 (higher data rates and capacity) and Thunderbolt 3 device connectivity as well as improved CPU performance.
Acer's big announcement, though, was in the Concept D series, a brand announced in January and aimed at creative professionals. The new Concept D 9 Pro is a monster, with Nvidia Quadro RTX 5000 graphics, 9th Gen Intel Core i9 processor, and a 17.3" 3840 x 2160 display. Most notable is the form factor, which unfolds from conventional laptop into a machine that transforms the laptop into a stand for the display, and can be tilted to any angle. A stylus is included. Designers will love it, said the guy from Nvidia, and they will, at least until they pick the thing up. 4.3kg means you will want it sitting on a desk most of the time. It will cost you around €5,499. A Concept D 7 Pro, 5 Pro and 3 Pro are also available if you prefer something easier on both back and wallet, though these lack the individualist design.
The company also hyped its Predator gaming brand, including the Triton 500 laptop with Nvidia GeForce RTX 2080 graphics and 300Hz refresh rate, another monster though still a minnow next to the Concept D 9 Pro.
Then there is Planet 9, a new social media platform for gamers which Acer calls "a next-generation esports platform". Its most notable feature is that you can hire a mentor to train you, with the example slide showing mentors on offer for $30 per hour. You can also sign up to be a mentor, though Acer told us that there will be an approval process. Users will of course give star ratings to mentors though users should be wary of anyone, umm, gaming the system (sorry). The platform will also offer tournaments and gaming stats. You can sign up now for a closed beta.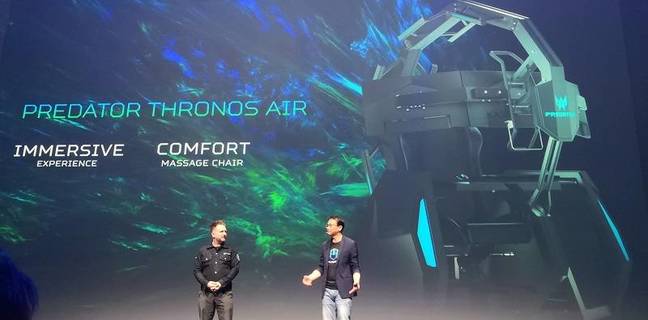 The Acer Thronos Air gaming chair presented on stage by CEO Jason Chen
Acer also continued its IFA tradition of unveiling a new Predator chair, something that makes sense only in the most capacious of gaming dens. The Thronos Air can be fitted with three displays and is made of steel, foam and leather. New this year is a chair massage function, offering "full range up/down massage," just the thing after an intensive bout of gaming.