Acer and Asus unveil some of the world's heaviest laptops ... and some of its lightest
Gaming chairs, gaming phones, gaming laptops – and some delightful feather-light ones
Asus and the world's most graphically powerful laptop
What about Asus, which is also a Taiwanese company? Asus managed to upstage Acer in a couple of respects, yet its event was less impressive overall. The ProArt Studio One laptop was presented as "the world's most graphically powerful laptop" and features Nvidia Quadro RTX 6000 graphics along with a 9th gen Intel Core i9 processor. The Studio One has a conventional form factor though it does have a cunning cooling system that places the hottest components – CPU and GPU - behind the display so that the base of the laptop does not fry the users lap. Asus has not published the weight, but like Acer's Concept D 9 it is hefty.
Since designers work with graphics of ever-higher resolution, "the size of data is not going to reduce," said Nvidia veep Bob Pette, justifying the focus on performance.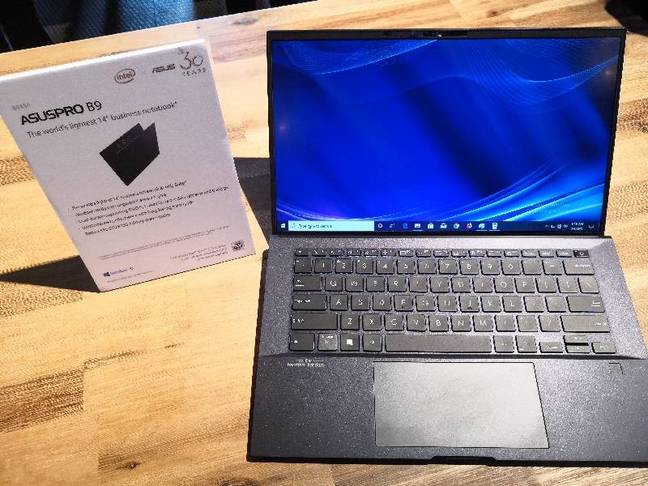 Weighing just 880g, the 14" AsusPro B9 is neat and useful
If you want a laptop that is actually desirable for carrying around, you should look elsewhere, perhaps to the AsusPro B9, also announced at IFA. This 14" device weighs just 880g, again besting Acer whose Swift 5 is 100g heavier. You still get a 10th gen Intel processor and even dual storage so you can configure RAID 1 if so inclined.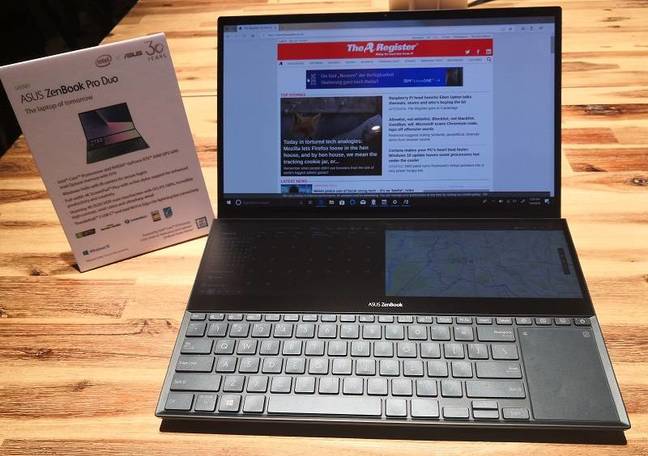 The Asus Zenbook Pro Duo has dual screens but an awkward design
The B9 is a delight, more so than the ZenBook Pro Duo, now coming to Europe. It is a powerful laptop, but Asus has gone a bit crazy with screens, adding a large second screen above the keyboard, and positioning the trackpad to the right. This means the keys go right to the bottom edge of the laptop, so you have to pull back your typing position, making it a poor choice for those who type extensively.
The ZenBook Pro Duo seems well engineered but poorly designed, on the evidence of a quick hands-on, though if you do not care about typing it may be just the thing.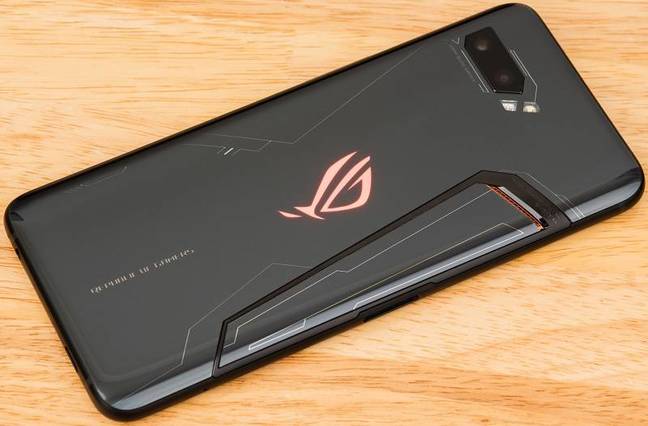 The rear of the Asus ROG Phone 2, showing its unusual sword-shaped cooling fin
Asus also presented the ROG (Republic of Gamers) Phone II, a gaming phone that sports 12GB RAM, Qualcomm Snapdragon 855+ chipset, Adreno 640 672MHz graphics, 2340x1080 display, a 6000mAh battery, and various configurations of storage. There is an optional add-on fan as well as other accessories. Asus is proud of its engineering work on the phone and at its press event you could see many of the devices' innards on display. A ROG Phone II will cost you from €899 and will start shipping on Sept 20.
The company is also continuing with its VivoWatch series, fitness trackers that (unlike the ZenWatch) do not run Android Wear. The new VivoWatch SP has "Health AI" technology and tracks heart rate, pulse oxygen level, autonomic nerve activity index (ANS age), stress level and blood pressure. There is also a built-in GPS. Battery life is up to 14 days (thanks to not running Android Wear. Cough).
Huge graphical powerhouse laptops and gaming phones that need add-on cooling, or featherweight laptops that are more than powerful enough to do real work? In the end it is the latter designs that are less compromised. ®