Electric cars are failing to take the world by storm, although sales remain strong in China even though its government subsidies for driving a 'leccy were recently reduced.
Figures from Canalys suggest this is down to a variety of other carrots and sticks offered by cities across China to urge people and companies away from petrol-guzzlers.
New Energy Vehicles (including full electric and hybrid cars) made up 7 per cent of total car sales in China during the second quarter of 2019, compared to 3 per cent in Europe and just 2 per cent in the United States. Chinese drivers bought about 350,000 NEVs versus about 100,000 in Europe.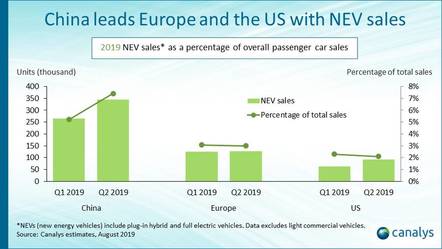 Click to enlarge
China's government is shifting the focus to encouraging hydrogen-fuel cell tech and putting subsidies there instead of standard electric vehicles. But Chinese drivers still enjoy zero purchase tax on locally made electric vehicles and an easier licence.
Jason Low, senior analyst at Canalys, said government subsidies had helped, "but a significant slowdown is coming. Customer subsidies for NEVs have recently been slashed as the government shifts focus to hydrogen fuel cell electric vehicles and refueling stations. The impact of the subsidy cut is already being felt. Leading NEV car-maker and battery supplier BYD has recently cut its 2019 sales forecast."
Tesla will also get a boost with zero purchase tax on the vehicles it produces in China.
Chris Jones, chief analyst at Canalys, told The Reg there was one exception to Europe's generally weak embrace of the non-internal combustion engine cars.
"Norway leads the world with NEV sales as a proportion of all cars (around half of new cars are NEVs) sold in the country and plans to only sell NEVs by 2025. Norway has shown the world what is possible, but it is a small market.
"Elsewhere in the world EV sales spike with a new car launch or refresh (with better driving range) – Audi e-tron, BMW i3, Chevrolet Volt, Nissan Leaf, Renault Zoe and especially the Tesla Model 3. But there have not been enough 'hits' from mainstream car makers. Much is expected from VW with the I.D."
Meanwhile, figures from the UK's Society of Motor Manufacturers and Traders (SMMT) showed a five-fold growth in zero-emissions vehicles registered in August compared to last year. Overall registrations fell 1.6 per cent, with fleet registrations down 3.5 per cent.
Compared with last year, diesel sales fell 19.3 per cent but petrol sales were up 2.4 per cent.
Battery electric sales were up 93.1 per cent, hybrid electric vehicles grew 20.2 per cent and Mild Hybrid Electric vehicles jumped 463.4 per cent and 206.1 per cent for diesel and petrol models respectively.
Mike Hawes, SMMT chief exec, said the figures appeared exaggerated because of traditionally low sales in August.
"To support a smooth transition and deliver environmental gains now, we need a long-term government commitment to measures that give consumers confidence to invest in the latest technologies."
While "range anxiety" may remain a worry for drivers, there are now more public electric charging stations than there are petrol stations in the UK – 9,531 compared to 8,394, albeit that filling up with fuel is still quicker than charging your battery. ®