This article is more than 1 year old
OK, let's try that again: Vulture rakes a talon on Samsung's fresh attempt at the Galaxy Fold 5G
Gently, mind – it's rather expensive
IFA 2019 Samsung is showing its remade Galaxy Fold 5G mobile at IFA, under way in Berlin, and we got a short hands-on.
Samsung said little about the Fold in its press conference this morning, making the passing comment that it represents "a new mobile category", but not much else.
The device was launched in February but general availability was postponed after early reviewers suffered issues including damage from dirt working its way under the screen, and inadvertently ruining the devices by removing the screen protector not realising that it is an integral part of the design.
Now, after a series of design tweaks, Samsung is relaunching the mobile and it will be on sale in the UK from 18 September. You can choose between black or silver, but note that if you go for silver, it is shiny and smears easily.
The Fold has two displays, a 4.6" (21:9), 720 x 1,680 front display and a 7.3" (4.2:3), 2,152 x 1,536 inside display, the latter being flexible so that the device resembles a tablet when it is fully open. There is a notch or cutout at the upper right to allow for the front-facing camera lens.
There are six cameras: a 10MP selfie camera for the cover, another 10MP selfie camera inside, and four rear cameras – 8MP RGB, 16MP ultra-wide, 12MP wide-angle, and 12MP telephoto.
The processor is a 64-bit Octa-Core (2.84GHz + 2.41GHz + 1.78GHz). There's 12GB RAM to play with and 512GB storage. The OS is Android 9 "Pie".
Audio features include stereo speakers, Dolby Atmos support, and bundled wireless Galaxy buds. You also get a fibre cover included in the price.
This is a high-end device but it is not the spec that matters. Rather, the unusual folding display is the key feature, together with the question: has Samsung successfully fixed the issues that caused problems the first time around?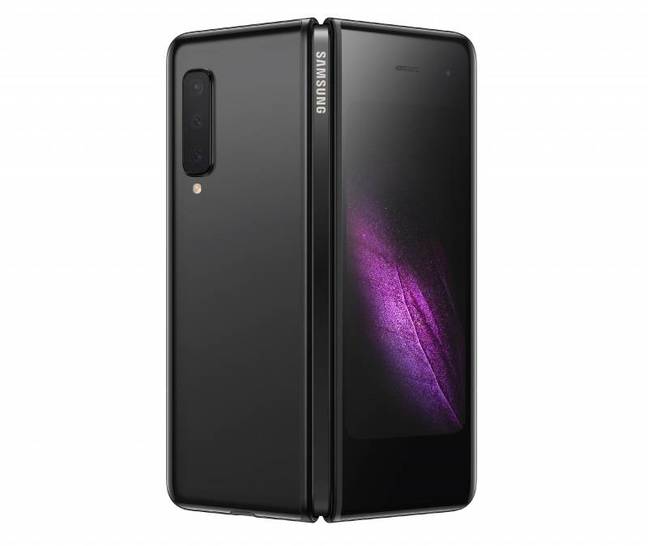 The Galaxy Fold is tall, narrow and fat when closed
First impressions are how unusually tall and narrow (but not thin) the phone is when closed. It is an uncommon form factor which will test the screen-scaling ability of applications running on the cover display.
Then you open it and the opposite is true, the widest display you have ever seen on a smartphone. The feel of the device is solid and you almost have to prise it open.
If you peer closely, you can see the slight vertical fold between the two halves, even when opened flat. It is not intrusive, though, and you soon forget that it is there. How many folds and unfolds will the device survive? "We tested it for 200,000 times folding and unfolding," said our demonstrator. Another way to put it is, a life of around 5 years with 100 folds a day. Will the fold become more visible over time? The suspicion is that this may be so, but the bright display helps to disguise any unevenness.
The bigger display makes it more likely that you will want to view more than one application at a time. You can swipe from the right to open additional apps, displaying up to three tiled apps and, if you want, a fourth app that floats above them.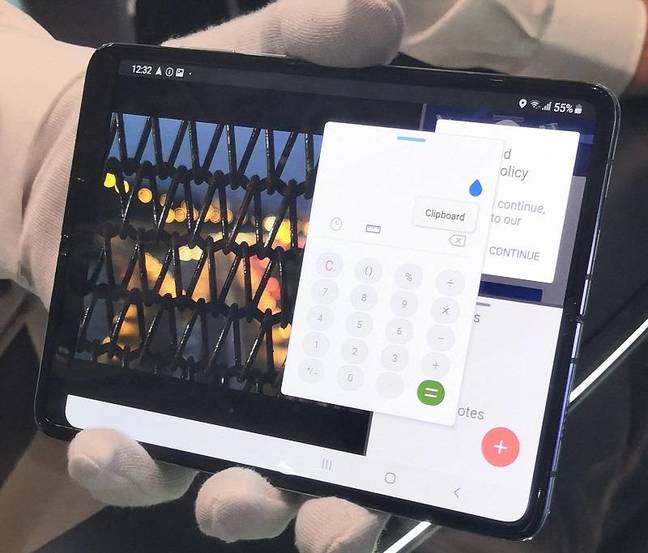 The Fold supports one floating application as well as others tiled
The cameras are impressive – though you can get the same spec at a more reasonable price in the Galaxy 10+. That said, you would not get the lovely large screen. The closeup lens is particularly impressive, you can see every speck of dust. We wished we had a second Galaxy Fold to take pictures of the one we were trying out.
What did Samsung change to fix the problems with the first batch? "We improved the covers of the hinges and added a few things inside to make sure that no dust can come in," we were told. "It's more solid now as well. There's still a screen protector on it but we made it bigger under the bezel, so there won't be a misunderstanding that you can peel it off."
So did Samsung repair the first manufactured batch, or throw them away? "We didn't repair and we didn't throw them away. We used the parts we could and made a new device," explained our demonstrator.
This is Samsung's most expensive Galaxy mobile by some distance. Is it worth it, when you could buy a phone and a tablet separately for much less money?
That value proposition is hard to assess for a new product category. If you want a pocketable phone that is also a 7.3" tablet, this is what you're looking for. That is on the assumption that Samsung has done its research properly and that the device will last as long as claimed.
It is easy to find fault. As a smartphone it is rather narrow and fat, the price is high, and it takes a bit of courage to jump in bearing in mind the inauspicious launch earlier this year.
Despite everything, though, this is an appealing and distinctive device in a market where vendors struggle to differentiate.
The Fold will be available in the UK from 18 September at £1,900 or under contract from EE, plans yet to be announced. ®