Now it's Terrance Dicks' turn to regenerate: Golden-age Doctor Who mainstay dies aged 84
My terrifying childhood with the man who made the Time Lords great
---
Obit Long before I read John Wyndham's dystopian horror stories The Day of The Triffids and The Kraken Wakes, I snatched terrifying glimpses of Terrance Dicks' work in the Doctor Who episodes, "Terror of the Autons" (1971) and "The Sea Devils" (1972).
This was while hiding behind the sofa in CERN accommodation as my father scrutinised particle collisions. The discovery of the Higgs boson brings many of Dicks' compelling sci-fi narratives, including those featuring the Time Lords, arguably closer to reality. Can anyone verify if the Large Hadron Collider emits "that wheezing, groaning" sound?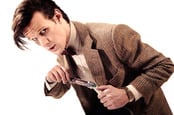 Doctor Who writers Neil Gaiman and Terrance Dicks talk to The Reg
READ MORE
Dicks died last week at the age of 84. He will always be best known for his work on Doctor Who as a script editor between 1968 and 1974, covering the whole of the Jon Pertwee era as the Third Doctor. He returned as a writer on the much-loved 20th anniversary special "The Five Doctors" in 1983.
Born in East Ham in 1935, Dicks worked in copywriting and penned radio plays before joining Doctor Who. He was hired as assistant script editor on the show in 1968, writing for "The Invasion" episode featuring the Cybermen, and quickly moved to the position of head script editor writing fan favourite "The War Games" with Malcolm Hulke. The epic 10-part serial about aliens kidnapping and brain-washing human soldiers brought Patrick Troughton's tenure as the Second Doctor to an end.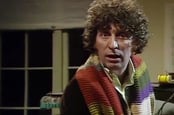 You want WHO?! Reg readers vote Tom Baker for Doctor 13. Of course
READ MORE
During his career spanning almost half a century, Dicks novelised more than 60 Doctor Who stories for Target Books, which sadly stopped publishing in 1994 but left a generation with a literary legacy. These adaptations inspired the likes of Neil Gaiman to conjure unique prose and deft descriptions of imaginary creatures and fanciful technology. Gaiman and Dicks' relationship with the Doctor Who franchise was explored by The Reg in a 2013 article. On its longevity, Dicks commented: "I've always said that the reason for its success is its variety."
Dicks' writing also encompassed an astounding variety of genres and subject matter. Spending my childhood studying in Toronto, Canada, I was lucky to have the guidance from his 1976 trilogy The Mounties, which follows new RCMP recruit Rob MacGregor. As a teenager, when I started playing the tabletop RPG Vampire: The Masquerade, I always imagined myself as Tom Baker in the "State of Decay" episodes fighting the Great Vampires.
A prolific author, his astute prose sharpened scripts for (shockingly) the soap opera Crossroads, Space 1999 and BBC period dramas including Vanity Fair and Oliver Twist. He also co-wrote The Making of Doctor Who, the first non-fiction book about the series.
Dicks set the high moral standard for the Doctor embodied by Jon Pertwee, but later suggested that these morals may have slipped as we prepare to welcome our 14th Doctor – concluding he may only have himself to blame as those screen writers surely grew up on a steady diet of his books. ®