IFA 2019 Huawei, Qualcomm, and Samsung were at the IFA consumer tech marketing fest in Germany this week to publicly tear the wraps off their upcoming mobile system-on-chips with built-in 5G modems. This integration means a load of forthcoming phones and gadgets using these processors will come with 5G support as standard, in theory.
Huawei managed to dominate the chipsets' unveiling at IFA, announcing the Kirin 990 and 990 5G. What is interesting here is not the 5G modem as such, but the fact it is integrated on-chip with the CPU, GPU and NPU (Neural Processing Unit) cores. Building in the modem improves performance, lowers power consumption, and takes less physical space.
The Kirin 990 5G is a 7nm-node chip using an EUV (that's extreme ultraviolet lithography) manufacturing process, with the following specification:
Two Arm Cortex-A76 cores at 2.86GHz
Two Arm Cortex-A76 at 2.36GHz
Four Arm Cortex-A55 at 1.95GHz
A 16-core Mali G76 GPU
NPU with three cores – two main cores and one, er, smaller one
2G, 3G, 4G, and 5G cellular connectivity
The modem is based on Huawei's Balong 5000, launched as a standalone chipset in January, and supporting both standalone (SA) and non-standalone (NSA) networks. NSA means using 5G connectivity over 4G infrastructure.
Huawei is promising downlink performance of up to 2.3Gbps and uplink up to 1.25Gbps. An adaptive receiver uses AI to optimize connectivity when on the move, taking into account strength of signal and transitioning between 4G and 5G as needed.
The reason for having so many processing cores is that it allows the chip to balance power consumption and performance. When a device is on standby, or doing less demanding tasks, slower cores and less-power hungry cores are used, and when a lot of performance is needed, the larger battery-draining cores briefly spin up. Huawei says there are an extraordinary 10.3 billion transistors in the Kirin 990 5G.
The Middle Kingdom giant's CEO of consumer technologies Richard Yu said the Kirin 990 will turn up in the forthcoming Mate 30 smartphones to be launched on September 19 in Munich. It is possible that the non-5G 990 will arrive ahead of the 990 5G, though the chips do seem to be in production or nearly so.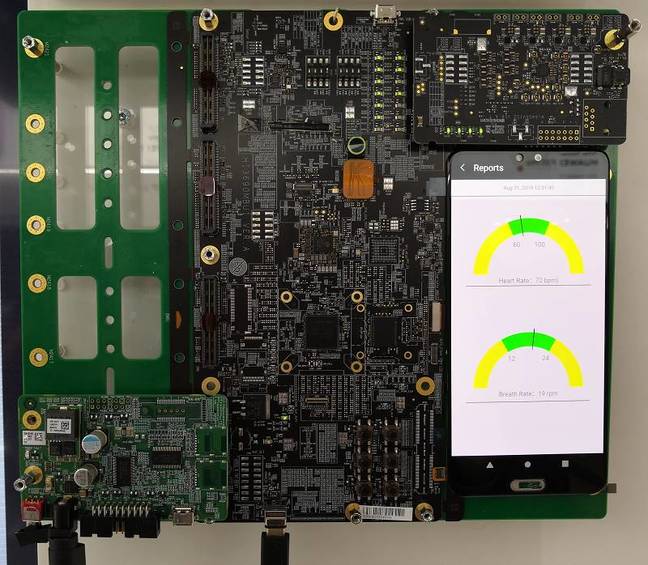 This development board, powered by Kirin 990, shows heart and breath rate detection by camera alone. The camera picks up tiny facial movements and uses AI to calculate the values ... Click to enlarge
Perhaps anticipating the Kirin announcement, Samsung introduced the Exynos 980 SoC earlier this week, just ahead of IFA. This is an 8nm chip that also features a 5G integrated modem, and promises a slightly superior downlink speed of up to 2.55 Gbps.
It has two Cortex-A77 cores and six Cortex-A55 cores, a Mali G76 GPU, and an NPU. Samsung says the Exynos 980 "is expected to begin mass production by the end of this year," so while performance looks if anything slightly better, it is behind in terms of production.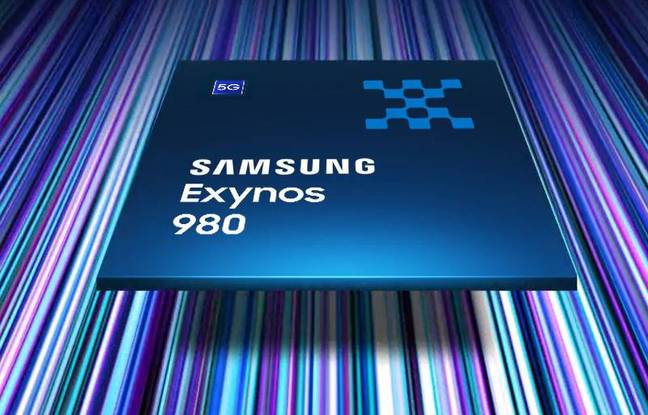 Samsung announced its own SoC with integrated 5G, the Exynos 980
Qualcomm president Cristiano Amon also spoke at IFA. Qualcomm dominates high-end smartphones with various configurations of its Snapdragon SoCs. Qualy partners its top-drawer Snapdragon 855 SoC with its X50 or X55 5G modems for 5G devices. The X50, used for example in the Samsung Galaxy Fold, is NSA while the X55 supports both SA and NSA.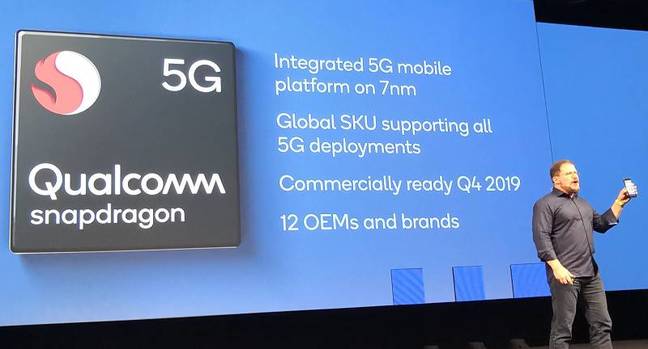 Qualcomm president Cristiano Amon announces a 5G integrated modem at IFA in Berlin
In Berlin, Amon announced Qualcomm's first 5G integrated modem-and-system-on-chip albeit for the mid-tier Snapdragon 7 series. It will be ready later in 2019, he said, and will support both SA and NSA 5G.
Why not for the flagship Snapdragon 8 series straight away? The reasons are no doubt to do with Qualcomm's ability to deliver a 5G integrated solution quickly, though the rationale may be that the X55 5G modem will offer superior performance in terms of pure connectivity albeit without the benefits of integration. In other words, Snapdragon series 8 SoCs can do just fine with discrete 5G modems, series 7 can benefit now with integrated 5G.
Amon spoke of Qualcomm's desire to bring 5G to cheaper devices, and not only smartphones, but also automotive and industrial applications.
Samsung's Dr JuneHee Lee, SVP and head of technology strategy team, appeared on stage to say how much the company loved working with Qualcomm, perhaps to emphasis that despite Exynos, Samsung will also continue to use Qualcomm technology.
At IFA, Huawei impressed with its Kirin 990 announcements, though it will be Qualcomm's SoC that will make more impact, thanks to its strong market presence. ®
Similar topics