Mainstream auto makers stuff in more self-driving tech: 8% of new Euro cars have Level 2 smarts
And prices are falling
---
Tesla's Autopilot might get all the attention, but semi-autonomous cars are starting to gain market share across Europe as mainstream brands get involved and prices fall, according to Canalys.
Level 2 autonomous cars, which can control both speed and steering but still require the driver's full attention, made up 8 per cent of total European sales in Q2 of 2019, or 325,000 cars. That compares with just 3 per cent of total sales in the same period of 2018.
Chris Jones, chief analyst at Catalys, noted that Toyota had jumped ahead by adding features as standard which were previously the preserve of premium brands.
"The penetration of advanced driver assistance and active safety features in new cars is increasing at a fast rate. Car makers have used the advanced features as differentiators in new cars – now they are seen as must-have features, and not just in cars from the premium brands."
Toyota sold the most semi-auto autos with 20 per cent of the total, followed by BMW, Mercedes-Benz, Volvo and Audi.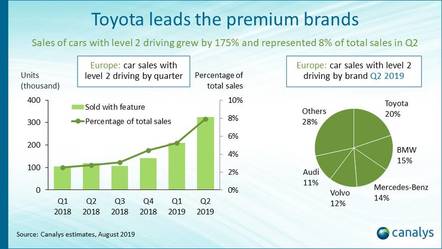 Click to enlarge
Almost a third, 30 per cent, of Level 2 cars sold in the quarter cost less than $40,000. Some autonomous features are now offered by a raft of other manufacturers including Citroën, Ford, Hyundai, Kia, Mazda, Nissan and Peugeot.
Jones warned that car makers have a duty to clearly communicate the benefits but also the limitations of the new features – "these are not self-driving cars."
Available examples of Level 2 vehicles include Autopilot from Tesla, Pilot Assist from Volvo and ProPILOT Assist from Nissan.
Level 3 is expected to provide effective self-driving in most circumstances but drivers must be ready to take over if necessary. Level 4 is "high automation" and should be capable of driving in almost all conditions, but might need help in very severe weather. Level 5 is full-on Johnny Cab.
In other auto auto news, Daimler-Benz has started testing Level 4 self-driving trucks on highways around southwest Virginia.
Daimler bought Virginia-based Torc Robotics in March to add to its Autonomous Technology Group.
Test vehicles require both an engineer to oversee the system and a commercially licensed driver to take over if necessary. The vehicles have completed testing on closed tracks. ®