The former CEO of popular to-do app Wunderlist has publicly pleaded with Microsoft to sell him back his company in despair over what the software giant has done with it.
Despite being paid a small fortune – between $100m and $200m – in 2015 for his app, Christian Reber is unhappy that Microsoft has effectively ditched the company's technology in favor of its own.
"Still sad Microsoft wants to shut down Wunderlist even though people still love and use it," Reber tweeted at the weekend. He then tagged Microsoft's CEO and the key Microsoft executive and offered to buy the company back.
"I'm serious @satyanadella @marcusash, please let me buy it back. Keep the team and focus on @MicrosoftToDo, and no one will be angry for not shutting down @Wunderlist."
Despite going to the trouble of buying the company for a huge sum and bringing across its engineers, less than two years later, the Wunderlist's blog announced a "preview of Microsoft To Do" in which it announced that Wunderlist would "eventually be retired" as its "best elements" are incorporated into Microsoft To-Do.
That was back in 2017 and Microsoft has seemingly done little with or to Wunderlist since. There have been no significant updates or feature expansions. And yet despite being effectively abandoned the app – which allows users to categorize and breakdown to-do lists as well as share them across multiple devices – remains hugely popular.
Some improvements
Having offered to buy his company back, Reber warned up to his idea, providing a list of improvements that he would add to his old app if given the chance.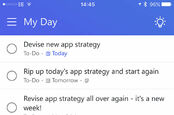 What a To-Do! Microsoft snuffs out Wunderlist
READ MORE
"Make it blazingly fast, ultra lightweight and keyboard-first on desktop… Build shared folders, powerful integrations, collaborative note-taking, board views, powerful API...Make cross-team collaboration for business amazing: add roles and responsibilities, pre-defined processes, real-time analytics for teams, maybe even add workspaces…"
Wunderlist users started piling in, prompting Reber to make it plain that he wasn't attacking the company that made him a very rich man. "Want to make one thing clear," he tweeted the next day, "I feel nothing but gratitude for Microsoft and everyone involved in the Wunderlist acquisition in 2015."
"It made perfect sense, definitely the best thing that ever happened to us… I'm just sad that our plans for Wunderlist didn't work out, but I also don't want to point fingers at anyone."
And he cited Acompli – which Microsoft bought and turned into Outlook – as an example of where the Beast of Redmond can get it right. Presumably he was hoping for the same. But no, Wunderlist is more like Skype: a great product with a passionate following that Microsoft managed to mess up by trying to re-engineer it into its systems.
Well, look at that
Interestingly, however, it appears that Microsoft is sensitive to the criticism: on Monday, just two days after Reber went public with his frustration, up popped a blog post on Microsoft's website "announcing the new version of Microsoft To Do."
"When Wunderlist became part of the Microsoft family, our mission was to bring the delightful, simple, and elegant daily task experience and build it into Microsoft's intelligent, interconnected, and security-centric ecosystem to create a new app—Microsoft To Do," the post begins.
"Today, we're unveiling the new version of To Do, which includes a fresh new design, access from wherever you are, and more integration with Microsoft apps and services."
Which is Microsoft's way of telling Reber: you sold it to us and it is now "part of the Microsoft family" whether you like it or not. ®