As the world's arms sales folk and protestors alike gather in London's Docklands for the Defence and Security Expo International, one small business has what appears to be the perfect accessory for your Bond-villainesque lair: namely, a mini submarine.
Subsea Craft's Diver Delivery Unit is a modern take on the old X-Craft miniature submersible of WWII. Combining, it claims, "the speed, range and capacity of a Long-Range Insertion Craft (LRIC) with the stealth and versatility of a Swimmer Delivery Vehicle (SDV)," the Victa Class Diver Delivery Unit (DDU) will leave you feeling like a true Daring Underwater Driver (DUD). [Is this last one right? – Ed.]
The Victa can travel at speeds of up to 30 knots, boasting a 250 nautical mile range and can carry up to eight "operators", be they the Special Boat Service ready to do something sneaky-beaky or you and your mates trying to look like the saddest coolest people on Benidorm beach.
Lest you be more than 250 nautical miles away from your intended target hollow volcanic island lair, relax: the Victa can be popped inside a regular ISO container to be shipped nearer to your destination, airfreighted inside a C-130 Hercules transport aircraft or dangled underneath a Chinook heavy-lift helicopter. You do have one of those options handy, don't you?
Propelling you are two 750hp diesel engines, while the little submarine is fully "fly by wire", allowing you to really show off the carbon fibre hull's capabilities to your hostages guests. Helpfully, the "human-machine interface" (we think that means the bicycle style controls used to point it in whatever direction you want to go) "incorporates features developed for systems used by the RNLI", that well-known operator of low-observable mini submarines.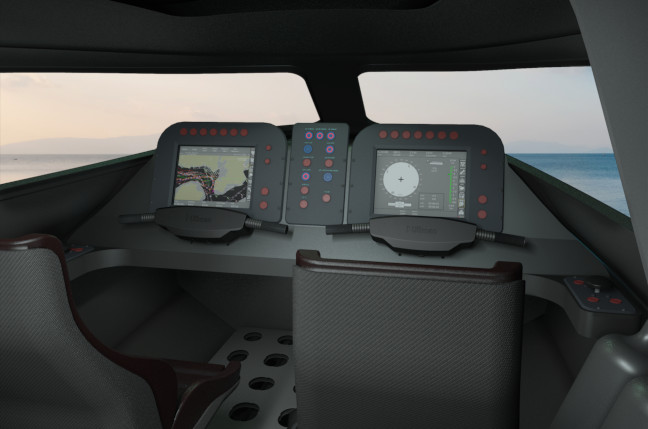 The Victa submarine's controls. Mockup image supplied by Subsea Craft
The lithium-ion battery is intended to give 25 nautical miles undersea range, with the Victa carrying enough oxygen for eight people to spend four hours breathing.
Graham Allen, chairman of Subsea Craft, boasted in a canned quote: "For the first time, defence and security organisations can deploy a craft that travels at speed over remarkable distances on the surface, before diving to approach their objective unseen. VICTA will transform capabilities in high-risk environments."
In the 1940s the Royal Navy's X-Craft submarines, midget boats with a crew of up to four, were used for various vital operations including weather reporting and sneak attacks. A related variant, the XE-Class, was used on extremely daring attacks against Britain's enemies, including cutting undersea telephone cables and attaching mines to Japanese warships. ®