Not long after the US presidential election in November 2016, Facebook CEO Mark Zuckerberg said it was "crazy" to think that Facebook ads swayed the vote. He was right, but only for supporters of Hillary Clinton.
The big Z subsequently backtracked and apologized for dismissing the idea, not long after his antisocial network acknowledged selling ads promoting a Russian-backed political influence campaign and many months after US intelligence officials detailed Russian electoral interference.
Such efforts to derail democracy continue to this day. Just last week, the US Office of the Director of National Intelligence warned, "We are concerned about ongoing campaigns by Russia, China and other foreign actors, including Iran, to undermine confidence in democratic institutions and influence public sentiment and government policies."
The power of persuasion
In a paper announced on Monday, "Politics in the Facebook Era: Evidence from the 2016 US Presidential Elections," researchers from the University of Warwick in England, ETH Zurich in Switzerland, and the University Carlos III in Spain, assert that Facebook ads do influence elections, but only among certain voters.
"We find that online political campaigns targeted on users' gender, geographic location, and political ideology had a significant effect in persuading undecided voters to support Mr Trump, and in persuading Republican supporters to turn out on polling day," the paper says. "Moreover the effect of micro-targeting on Facebook was strongest among users without university or college-level education."
The researchers contend that social media campaigns worked well to encourage undecided voters to support Donald Trump and to increase Republican voter turnout on election day significantly.
"Our estimates indicate that exposure to political ads on Facebook adds between five and ten per cent to the probability to vote," the paper says. Facebook ads did not have the same effect on Democrats or Independents, though they turned non-aligned voters who were regular Facebook users into Trump voters about five per cent of the time. That doesn't sound like much, but in close races, it's enough to nudge candidates ahead of rivals.
Trump's team shows its smarts
For the Trump campaign, which between June and November 2016 spent $44 million on Facebook ads – to say nothing of the support from the Russian Internet Research Agency – that marketing money was well spent. The same cannot be said for the Hillary Clinton campaign's Facebook efforts, which cost $28m during the same period and produced no appreciable effect.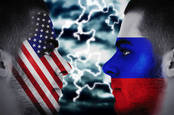 Bloke gets six months for fixing up Russia's US election trolls with bank accounts, fake identities
READ MORE
The paper notes that there was no turnout bump among those with university or college degrees and that "micro-targeting was ineffective for Clinton, failing to boost turnout or to sway voters in her favor."
Federica Liberini, a postdoctoral researcher at ETH Zurich, in a statement said that political micro-targeting via Facebook ads worked well when targeting particular ideologies, genders and education levels, and less so when based on race and age.
"Our results show that social media effectively empowered politicians to influence key groups of voters in electoral races, and it is further evidence that recent political outcomes, such as Brexit and the election of President Trump, might be largely due to the use of data analytics," she said.
The researchers say their findings support the hypothesis that exposure to social media magnifies political polarization and suggest that reading political ads on Facebook does not make the reader more politically informed.
US legislators have proposed regulating social media political ads and Zuckerberg in April said he supports the idea, alongside steps the company claims to be taking to improve transparency and strengthen advertiser verification. But it's hard to imagine that Republicans are eager to meddle much with a system that motivates their voters. ®
Similar topics