Why would anyone need Cloud Foundry when we have Kubernetes? Um, 'cos K8s is really hard!
At least that's what the org would have you believe
---
CF Summit "The Kubernetes community is reaching out and asking for our help on the developer experience," claimed Cloud Foundry exec director Abby Kearns at the outfit's Netherlands-based Euro Summit.
Cloud Foundry (CF) is a foundation dedicated to the open-source CF Platform, including the CF Application Runtime (CFAR), which enables developers to package and deploy an application with the single command cf push.
Certified versions of the platform are available from vendors including Pivotal, IBM, SAP and SUSE, and deployment can be on-premises or to public cloud. CF members also include VMware, Microsoft, Google and Alibaba Cloud.
The CF Platform pre-dates Kubernetes (K8s) and is now racing to adapt it. "The waters will keep shifting around us and changing," Kearns said at the event in The Hague. She was addressing developers but could have equally been referencing her own organisation amid the challenge of redoing CF plumbing for K8s.
Announced today is that all CF certified providers now support a technical preview of Eirini, which enables CF Application Runtime applications to be hosted on K8s. The project was first revealed at the October 2018 Cloud Foundry summit in Basel, Switzerland.
The K8s transition is more than just Project Eirini. Another key piece is Project Quarks, which packages CFAR applications as containers rather than VMs, ready for deployment to K8s. Quarks – which like Eirini is based on SUSE tech – is now entering beta, summit attendees were told, and new load-balancing features were demonstrated on stage.
In a K8s world, is the CF platform still necessary? The pitch from Kearns is the complexity of K8s is something developers should not have to tangle with directly, and the developer experience offered by CF is necessary to achieve productivity (or, perhaps, to avoid expensive misconfigurations).
That said, all the major cloud providers are engaged in making K8s easier to use by abstracting its complexity, and with CF's migration still at an early preview stage it is hard to predict future adoption.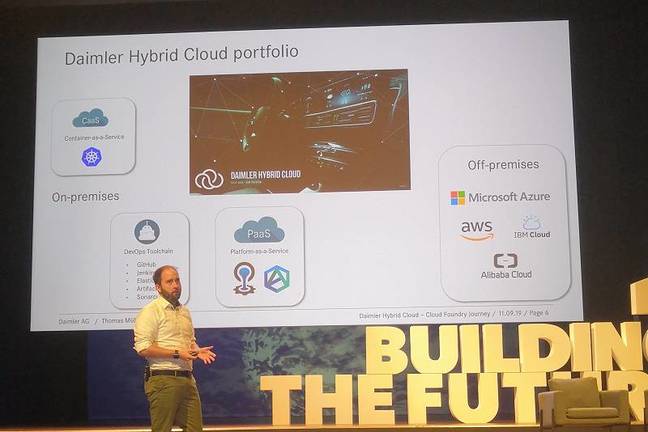 Multi-cloud and hybrid cloud is central to Daimler's IT strategy, explains platform architect Thomas Müller
Daimler's Thomas Müller, platform architect, spoke this morning at the summit about his company's migration from IBM WebSphere to Pivotal Cloud Foundry (PCF) and illustrated another point, that the typical enterprise has more to worry about than K8s support.
His company began its transition from WebSphere in 2015 and it took until March 2019 to go live with 50 or so applications on PCF. Daimler takes a hybrid cloud approach, using Azure, AWS, IBM Cloud and Alibaba, as well as its own data centre in Stuttgart and a new one being built in Frankfurt. PCF has enabled developers to focus on their application code and to use a self-service model for platform services as well as deployment, he said. He also spoke of the challenge of non-technical issues including bureaucracy and company silos as obstacles that had to be overcome in moving to an "Agile DevOps working model".
Pivotal, soon to be acquired or perhaps shuffled to become part of VMware, is a prominent sponsor of Cloud Foundry. VMware's Craig McLuckie, veep of R&D, spoke about "the need to deliver a common substrate" for IT infrastructure.
"K8s is an elegant infrastructure abstraction, low enough level that you can run pretty much anything, high enough level that it hides the specifics of the infrastructure," he said.
It is a tricky transition for VMware just as it is for Cloud Foundry. VMware is well placed to support K8s on-premises deployments, but its long-term role in the public cloud is less clear.
With Pivotal it can benefit either way, which is another reason why we can expect CF's headlong rush towards K8s to continue. ®