On Wednesday, Oracle said co-CEO Mark Hurd will take a leave of absence to deal with undisclosed health issues, an announcement that coincided with the publication of the tech titan's fiscal 2020 Q1 numbers.
The database giant also publicly shared a message Hurd sent to Oracle employees. "Though we all worked hard together to close the first quarter, I've decided that I need to spend time focused on my health," Hurd said in his email. He expressed confidence that the company's leadership team will manage things during his absence.
Oracle executive chairman and CTO Larry Ellison said, "Oracle has an extremely capable CEO in Safra Catz and an extraordinarily deep team of executives, many with long tenure at Oracle. Safra and I will cover Mark's responsibilities during his absence with support from the rest of our strong management team."
Catz said as much during a conference call for investors, pushed up a day due to the news of Hurd's leave of absence.
Oracle did not respond to a request to confirm claims The Register has heard at industry gatherings about the nature of Hurd's ailment, which has recently forced him to take long spells out of the public eye.
Hurd is stepping back as the Java giant prepares to host its OpenWorld and CodeOne conferences next week. He joined Oracle in 2010 after serving as CEO of Hewlett-Packard for five years. He left Hewlett-Packard following an inquiry into whether he violated the company's code of conduct in the course of interactions with a greeter at HP events and reality TV personality who filed a sexual harassment claim that was later settled privately.
Oracle's Q1 FY20 earnings report did little to lighten the mood, falling short of expectations and dragging the company's stock price down several percentage points in after-hours trading – though after a few hours the loss was mostly erased.
For the three months to August 31, the biz reported $9.2bn in revenue, just shy of the $9.29bn anticipated by financial analysts on average. That's essentially the same revenue figure the company reported in first quarter of last year.
GAAP earnings per share rose 11 per cent to $0.63; GAAP net income came in at $2.1b while GAAP operating income reached 4 per cent and GAAP operating margin was 31 per cent.
By segment, cloud services and license support brought in $6.8bn, representing about 74 per cent of revenue and a 3 per cent increase year-on-year. Cloud license and on-premises license came in at $812m, representing about 9 per cent of revenue and 6 per cent decline from this time last year.
Oracle's hardware segment delivered $815m, amounting to 9 per cent of revenue and a 10 per cent decline. And its services segment managed $786m, about 8 per cent of revenue and a 3 per cent decline year on year.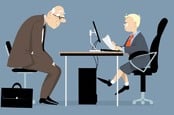 Oracle's legal woes deepen: Big Red sued (again) for age and medical 'discrimination'
READ MORE
During the company's conference call, Ellison talked up Oracle's "massive opportunity" in ERP (Enterprise Resource Planning) and HCM (Human Capital Management). So many companies, he said, have no upgrade path to take their on-premises systems to the cloud.
"These companies' products are vulnerable to being replaced and we're in the process of replacing them," he said.
Ellison also ticked off customer wins against rivals SAP and Workday. "McDonalds chose our HCM," he declared. "They chose our payroll. This was a battle between us and Workday. We won. And we're replacing their on-premises legacy system."
And he showered superlatives on his company's Autonomous Database, insisting that it takes the cost of human labor and the risk of human error out of the picture. The theft of financial and personal information from Capital One's AWS server, attributed to a misconfigured firewall, could not have happened with Oracle's Autonomous Database, he insisted.
"It's not safe to go to any other database," he said. ®
Similar topics