This article is more than 1 year old
Do you want fr-AI-s with that appy-meal? McDonald's gobbles machine-learning biz for human-free Drive Thrus
AI'm Lovin' It
McDonald's has wolfed down Apprente, an AI startup focused on voice recognition, seemingly in a bid to replace its Drive Thru human servers with computers.
Yes, that's right. One of America's biggest fast-food chains wants to get its greasy hands on machine learning and likely automate (aka, ditch) a chunk of its workforce. Apprente, based in Mountain View, California, was founded in 2017, and has been building speech-powered customer-service chatbots. Now, the team will be rebranded as McD Tech Labs, and will inject their technology into McDonald's Drive Thru service.
"The initial focus of the Silicon Valley team will be to enhance technology for use in McDonald's Drive Thru," gushed the McFlurry giant in a statement. "However, we believe that the broader voice-based technology also has the potential to reach customers when, where and how they want through incorporation into mobile ordering or kiosks."
So, it appears the home of the Hamburglar will add some sort of Apprente-built speech-controlled assistant to its Drive Thru kiosks, and its mobile app, so you can order your "food" using your voice, and pick up the grub minutes later, without having to chat to a real person. And therefore without McDonald's having to employ a human server.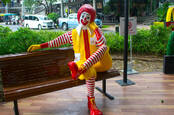 McDonald's tells Atos to burger off: Da da da da da, we're lobbing IT ...
READ MORE
If it turns out Ronald is not going to ditch his front-of-house staff completely, it is possible he could put the speech-recognition system to use transcribing orders to help employees decipher customer requests if staff had trouble hearing what was said. Perhaps it could even transcribe the order for the customer to review. The Register has asked McDonald's for more insight.
Although it may seem odd that a fast food chain has acquired an AI startup, Apprente isn't the first one McDonald's has bought. In March, it also gobbled Dynamic Yield, a New-York-based outfit, that uses machine learning to collect customer data and perform A/B testing to "personalise customer experiences."
"This latest investment in advanced technology capabilities and talent builds on several key initiatives the company has introduced over the last three years to improve both the restaurant employee and customer experience, from the acquisition of Dynamic Yield, to the expansion of McDelivery, as well as the development of McDonald's Global Mobile App, Mobile Order and Pay, indoor and outdoor digital menu boards, and self-order kiosks," McDonald's concluded, regarding its Apprente acquisition. ®