A number of Uber employees found their rating a little lower than they thought as the company laid off 435 staffers this week.
The ride-hailing app biz elected to unload the steaming news pile last night, while Apple was attempting to impress the world with its latest array of gadgetry. Coincidentally, Intel also released details of a fresh chipset vuln last night too. Funny that..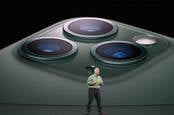 Lights, camera, camera, camera, action: iPhone, iPad, Watch, chip biz in new iPhone, iPad, Watch, chip shocker
READ MORE
A spokeswoman at Uber gave us a slightly toe-curling statement. "Our CEO has asked everyone on our management team a simple but important question: if we started from scratch, would we design our organizations as they stand today?"
Rather than consider just how the company has managed to burn quite so much cash, "our Engineering and Product leaders concluded the answer to this question in many respects was no."
Ouch.
Uber lays claim to more than 27,000 full-time employees around the world, and cuts to the product and engineering team will account for 435 staffers. "Specifically," said the spokeswoman, "around 170 people in our Product group and 265 people in Engineering." The total represents around eight per cent of the workforce in the groups.
Product Management did not fare too badly, with mainly the teams responsible for design and research hit.
"Ruthlessly prioritising, and always holding ourselves accountable," Uber still managed to squeeze in a bit of handwringing, describing the mass issuing of pink slips as "certainly painful in the moment, especially for those directly affected."
In deciding who would receive their marching orders, bosses pondered team size, overlapping work and, of course, performance of the individuals concerned (over 85 per cent of whom are US-based). Uber's hiring freeze for the affected departments, which was imposed in August after a particularly sticky set of financials, has also been lifted.
Those results for the second quarter, ended 30 June, made for grim reading as the taxi app outfit managed to transform a loss in operations from $739m to $5.485bn. Impressive stuff, even considering $3.9bn of stock-based compensation and a $298m "driver appreciation award".
The likes of Uber Eats and Freight were unaffected – small comfort to those who do not seem to possess the skills Uber needs. The company had previously offloaded a third of its marketing team, 400 employees, back in July.
Uber's stock ended the day at $33.51, quite a bit down from the glory days of its IPO back in May when it was priced at $45. ®