China's cloud market jumps 58%: OK Alibaba, you've lost your Ma but you're still leading
Plus: Baidu's 92% growth closes gap on AWS
---
Despite all the talk among Western tech vendors of an economic slowdown in the Middle Kingdon, spending on cloud infrastructure services in China is comfortably outpacing that of the global average.
Figures from data wrangler Canalys show the country's outlay on cloud infrastructure jumped 58 per cent to $2.295bn in the second quarter of 2019. In comparison, spending on IaaS globally went up 37.6 per cent over the same period.
The expansion in China (and, to a lesser extent, in Europe and Africa too) has seen North America, which enjoyed a 52.9 per cent share of the global market in the second quarter of 2018 slip to 49.8 per cent on spending of $13.096bn. China's share of the global pie grew from 7.6 per cent to 8.7 per cent.
Canalys Research Analyst Daniel Lui noted that "outlay on cloud infrastructure services continues to increase among Chinese organizations, particularly startups, government agencies and enterprises."
Alibaba, under departing boss Jack Ma, maintained its dominance and accounted for 43 per cent of the market. However, its growth of 47 per cent was considerably lower than second-placed Tencent Cloud, which jumped 88 per cent. Amazon was third, having grown 48 per cent.
Bezos' team will be casting an anxious glance over their collective shoulder at Baidu Cloud, which is close behind and grew by a stonking 92 per cent.
Lui told The Register that "China has been one of largest markets for AWS. The massive market size, demands and internet consumers are providing the optimism for AWS."
He also gave us some insight into how the giant operates, telling us: "Its services are delivered through two Chinese partners, which are also responsible for operation and sales [thus achieving]... AWS's ambition to follow domestic regulation and provide services for Chinese customers."
Chucking money around
However, Lui observed Amazon was facing challenges from the Chinese local cloud providers, comprising both large and small vendors, and commented that "competition in China had intensified."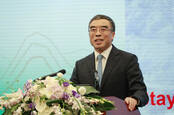 US sanctions fail to get in Huawei as embattled Chinese vendor reports 23% revenue growth
READ MORE
Tencent Cloud, for example, had kicked off e-government and advertising initiatives in order to diversify from gaming and video streaming, while Baidu had dipped a toe or two into the waters of AI, telecommunication and autonomous vehicles.
Amazon won't be too worried.
Lui told us that the company's initiatives to work with government and the creation of innovation campuses aimed at supporting SMBs had done no harm, and also pointed out that partnering with the Chinese entities of global system integrators, such as Deloitte, as well as local ISVs, to tempt more Chinese enterprises "offered growth drivers for AWS."
The likes of Microsoft Azure, Huawei Cloud and China Telecom did not merit a revenue ranking from Canalys.
Must try harder, gang. ®