France says 'non merci' to Facebook-backed Libra cryptocurrency
Digital dosh scorned as a threat to national sovereignty
---
On Thursday Facebook's Libra cryptocurrency has received a Gallic dismissal courtesy of France's finance minister.
Speaking at the OECD Global Blockchain Policy Forum 2019, a virtual currency conference, Bruno Le Maire said Libra poses certain difficulties in terms of financial transactions and opined that thought needs to be given to creating a public digital currency.
"With the Libra project, the monetary sovereignty of [European] States is at stake," said Le Maire. "In these circumstances, we can not authorize the development of Libra on European soil."
In his speech, Le Maire said Libra poses risks not only to sovereignty but to consumers and companies. And he expressed concern that the digital credits could facilitate money laundering and terrorism.
France's rejection of Libra follows guidelines published Wednesday by the Swiss Financial Market Supervisory Authority FINMA that acknowledge a request from the Libra Association for an assessment of the project's legality in Switzerland. It includes a warning that the coin scheme will face more scrutiny than usual because it aims to go beyond being a mere payment system.
Libra, announced in June and promptly denounced by privacy advocates, academics and lawmakers, represents the social ad giant's attempt to expand beyond advertising into the payments business. The company initially enlisted 27 partners to enable digital currency transactions and then brought in lobbyists after a broad backlash.
Last month, data protection officials from the US, EU and UK issued a joint statement of concern about Libra. "To date, while Facebook and [its Libra-focused subsidiary] Calibra have made broad public statements about privacy, they have failed to specifically address the information handling practices that will be in place to secure and protect personal information," the statement said.
The Libra Association hopes to make Libra available by June 2020. The currency is designed to be tracked by blockchain and backed by assets – fiat currency paid to purchase Libra that gets stored in a reserve for theoretical later redemption.
The Register asked Facebook for comment and our request got kicked to the Libra Association, which didn't immediately respond.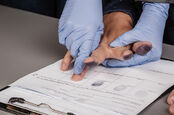 Don't trust Facebook's Libra cryptocurrency, boffins warn: Zuck & Co know that hash is king
READ MORE
In an email to The Register, Valerie Khan, VP of Digital Equity, a non-profit advocacy group based in Switzerland, and co-author of a paper critical of Libra, said Le Maire's concern is welcome because it buys time to look into Libra's real intentions.
But, she argues, concerns about the misuse of Libra for unlawful activity – something Facebook's David Marcus has said Libra aims to make more difficult, not less – miss the project's primary aim. Libra, she contends, is not about money or blockchain. Rather, it's about the business value of personal identification.
"Facebook interest in Libra is not to create a more liberal payment mechanism, but to ride these fears of security introduced by money laundering and terrorist financing to gather more information about the identity of a client," she explained.
Also in France on Thursday, Google has agreed to pay a €500m ($554m) fine €465m ($515m) and to settle a four-year old tax fraud probe, according to Reuters. ®