CF Summit IBM has demonstrated Cloud Foundry running on Red Hat OpenShift, a Kubernetes (K8s) container platform, at an event in the Netherlands.
Big Blue closed its $34.5bn acquisition of Red Hat in July. The company is a longstanding user of Cloud Foundry tech, which it used as part of Bluemix, its original platform-as-a-service (PaaS) that was rebranded as IBM Cloud in late 2017.
The Cloud Foundry platform allows developers to deploy code written using a variety of programming languages to the Cloud Foundry Application Runtime (CFAR), automatically packaging the code with its dependencies into containers.
Running Cloud Foundry on Kubernetes is a recent development. "Part of what that makes possible for us is the Eirini project we've been leading in conjunction with our colleagues at SAP, SUSE and Pivotal," said IBM distinguished engineer Tammy van Hove. Eirini adds an option to deploy to K8s as an alternative to the existing Diego runtime.
At the Cloud Foundry Summit under way in The Hague, senior technical staff member Simon Moser demonstrated deploying code using the familiar cf push command to a runtime hosted on Red Hat OpenShift. Moser described the demonstration as a "technical experiment."
Moser also showed how the CF container could integrate with another application previously installed "using Kube controller and OpenShift native mechanisms." Once a CF container is on OpenShift, it can be managed "just like any OpenShift container".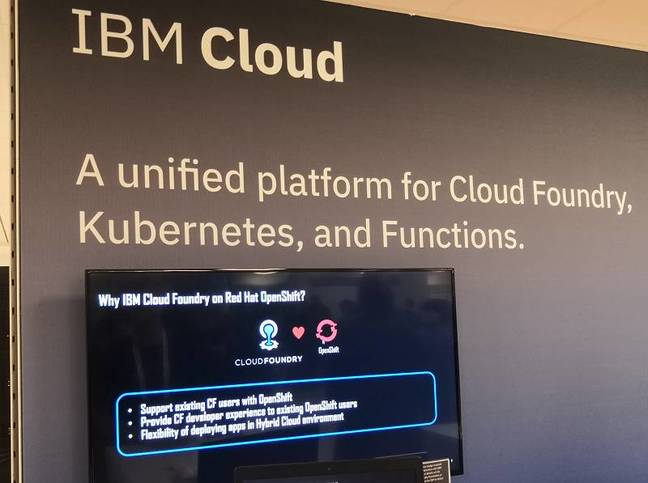 IBM Cloud on show at the Cloud Foundry Summit
IBM's demonstration shows that there are now several K8s-based implementations of the CF platform. Others include Pivotal Application Service, in preview, and SUSE Cloud Application Platform, available since last year.
IBM is a long way behind rivals AWS, Microsoft and Google in public cloud. The company is hoping that the Red Hat acquisition will boost its cloud ambitions, with Cloud Foundry one piece in the overall puzzle. ®