Watchdog: Hush-hush UK.gov blew £97m on Brexit wonks from six of the usual suspects
Deloitte, PA Consulting, PwC et al making a killing from crisis
"Excessive secrecy" surrounds departmental spending on Brexit consultants, though 96 per cent of the £97m spaffed to date has gone to just six firms, according to the UK government's spending watchdog.
The Public Accounts Committee's Brexit consultancy costs report found that departments have proved "overly secretive with their preparations for Brexit, taking far too long to publish details of their consultancy contracts and then failing to meet their own basic standards of transparency".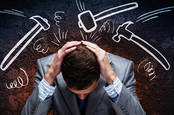 Cloud, internet biz will take a Yellowhammer to the head in 'worst case' no-deal Brexit
READ MORE
The body urged the Cabinet Office and the Department for Exiting the European Union to make preparations transparent, including "information on the degree of progress made against the various workstreams available and timely publication of details on contracts awarded to support Brexit".
The report also warned that too much of the work procured to date appears to have been focused on "thinking and shaping", rather than getting things done. "This only compounds our concerns over the speed of preparations for Brexit across Whitehall."
Of the money spent to April 2019, it found that 22 per cent has gone to Deloitte, followed by PA Consulting (19 per cent); PwC (18 per cent); Ernst & Young (15 per cent); Bain & Company (11 per cent); and Boston Consulting Group (10 per cent).
"We are concerned that the bulk of Brexit consultancy contracts by value have been awarded to a small group of big firms and that the Cabinet Office seems overly complacent about this despite previous government commitments to contract with more small and medium-sized enterprises," the report said.
"The Cabinet Office should write to us within three months setting out what it will do to incorporate a wider range of consultancy firms, including SMEs, in future frameworks."
It also recommended the Cabinet Office set out the extent to which departments are now using consultants to support implementation and delivery of preparations.
A number of departments are faced with a raft of IT challenges as they plan to implement new systems for Brext. For example, half of the Brexit projects for the department for the environment, food and rural affairs have an IT element. ®