This article is more than 1 year old
Captain's coffee calamity causes transatlantic flight diversion
Electronics and hot drinks don't mix
A Condor flight to Mexico was forced to turn back over the Atlantic after a spilled coffee caused one of its radios to start melting.
CFG116, an 11-hour flight between Frankfurt and Cancún, was cut short after the captain knocked his cuppa over himself and the radio panel on his Airbus A330's centre console. The spillage caused an "electrical burning smell" followed by smoke.
Despite warnings in the Airbus flight manual telling pilots to put drinks in dedicated cup holders, which are nowhere near the centre console, the captain put his drink on his foldout tray table while filling in paperwork. Predictably, he knocked it over.
After an uneventful takeoff from Germany and cruise through British and Irish airspace towards the Atlantic Ocean, the cabin crew served the pilots hot drinks, something the Air Accident Investigation Branch (AAIB) report said was "normal for this operator and route". When the bad thing happened, "most of the liquid fell onto the commander's lap", with a "small amount" spilling onto the radio panel.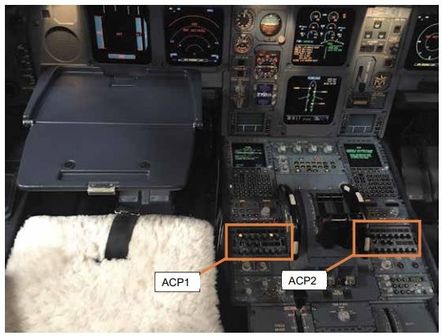 ACP1 is the captain's radio; ACP2 is the first officer's. The white fluffy thing is the captain's seat cover (Pic: Air Accidents Investigation Branch)
The left-hand radio decided it didn't like being soaked in coffee and promptly had an "immediate malfunction" and all of its lamps lit up. Unable to electrically isolate it, the crew dried the radio as best as they could. Nonetheless, after about 40 minutes it "became very hot and failed and there was an electrical burning smell in the cockpit".
On its own, this would have been a mere annoyance; A330s carry three radios in the cockpit to ensure there's always a backup. Unfortunately, the captain's coffee had leaked through to the first officer's radio. Twenty minutes later, that radio "became hot enough to start melting one of its buttons" and also died, while the first began issuing smoke.
At this point (56°03'N 031°11'W – more or less equidistant between Ireland and Canada) the captain said enough was enough, declared a mayday and turned around for the nearest safe airport, Shannon in western Ireland. Fuel had to be jettisoned in order to get below max safe landing weight, according to the crew's account on the Aviation Safety Network website.
"During the diversion, the flight crew alternately used supplementary oxygen, with one pilot on oxygen at all times," said the AAIB.
It added: "The size of cups used by this operator on this route made it more difficult to take cups in and out of the cup holder than larger cups that have a bigger area at the top of the cup holder to grasp. This incompatibility generally discouraged use of the cup holder, despite the policy."
Condor, the continental brand of Britain's Thomas Cook, has since issued a contract for the supply of coffee-cup lids and ordered cabin crew to fit them before letting pilots loose with hot drinks. ®