OK, peons, we'll obey the law and let you talk about politics and pay packets, says Google
Reaches agreement with US government over Labor rights
Google has agreed to settle two complaints filed with the National Labor Relations Board by former employees who claim the company fired them from engaging in lawfully protected workplace speech.
One of the former employees, Kevin Cernekee, claimed to have been dismissed in 2015 because of his conservative politics; Google maintains he was fired for policy violations. The settlement addresses Cernekee's speech claim but not a separate discharge claim, the dismissal of which was upheld by the NLRB's Office of Appeals in May.
The other case settled involves a former manager at Google's Nest subsidiary, unnamed in unredacted NLRB filings, who was dismissed in 2016. The individual alleged, in addition to being denied protected speech, that Google/Nest engaged in "unlawful surveillance of employees through accessing their electronic devices in order to chill, restrict or take action" to prevent the exercise of protected workplace speech rights.
The NLRB partially dismissed some of those claims, noting that the National Labor Relations Act protects employees but not supervisors or managers.
Google has seen extensive employee disagreement in the past few years over the company's business practices and policies governing employee speech and behavior. There have been walkouts over payouts to executives accused of sexual harassment, protests over support for government censorship, and allegations of political bias.
Under the terms of its agreement, Google will post a notice for employees reminding them of their labor rights under federal law, which include the right to discuss workplace conditions.
Such concessions are common for employers entering into settlement agreements. When JavaScript package biz NPM settled charges of union-busting over the summer, it too agreed to remind employees of their rights under the law.
The settlement does not represent a government directive to act. Rather it represents actions Google has offered to take in order to resolve the NLRB claims. Under the terms of the agreement, Google will admit no wrongdoing.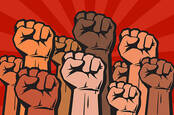 Google internal revolt grows as search-engine Spartacuses prepare strike over China
READ MORE
"We have agreed to a proposed settlement with the NLRB of Mr Cernekee's complaint," a Google spokesperson said in a statement emailed to The Register.
"Under the settlement, we have agreed to post a notice to our employees reminding them of their rights under the National Labor Relations Act. As a part of that notice, we will also remind employees of the changes we made to our workplace policies back in 2016 and 2017 that clarified those policies do not prevent employees from discussing workplace issues. There is absolutely no mention of political activity in the proposed settlement, and the updates we made to our Community Guidelines are completely unrelated and unaffected."
Among the aspects of its internal rules being clarified as a result of the settlement, Google has agreed to "rescinded sections of our Data Security Policy and our Data Classification Guidelines that arguably" defined "confidential information" to include wages, terms and conditions of employment. The company has also agreed not to prohibit employees from talking to the press about pay or working conditions.
Google last month adopted an amended Code of Conduct intended to discourage discussion of controversial subjects. When The Register spoke to Wendy Musell, a partner at employment law firm Stewart & Musell, about the rules, she suggested Google might find it difficult to use its rules to limit workplace discussions because the scope of its business touches on so many different aspects of society and worker concerns. ®