Improbable Hollywood ninja Steven Seagal has been fined by America's financial watchdog for hiding details about a paid promotion he did for a crypto-coin investment upstart.
The Under Siege star agreed to settle charges that he did not disclose having received cash and digital payments before he made endorsements for Bitcoiin2Gen.
According to securities regulator the SEC today, the Above The Law hero took $250,000 in cash and $750,000 in digital tokens from the cryptocurrency firm ahead of its initial coin offering. Bitcoiin2Gen (not a typo, they use the letter "i" thrice in their name) announced the partnership in 2018, with Seagal championing the company in his social media posts and webinars.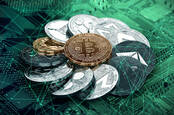 Cyber-coin crackdown continues: Commission charges couple crypto-currency company chiefs concerning 'conned' customers
READ MORE
The case centers on the SEC's 2017 decision [PDF] that digital coins generated in an ICO are classified as securities. Because of this, rules for celebrity endorsements are different than they would be for other products or services.
As the ads ran in the run-up to the ICO, Seagal should have explicitly stated just what and how much compensation he received for putting his name behind the coin launch, and yet failed to do so.
"These investors were entitled to know about payments Seagal received or was promised to endorse this investment so they could decide whether he may be biased," said SEC cyber unit chief Kristina Littman. "Celebrities are not allowed to use their social media influence to tout securities without appropriately disclosing their compensation."
The watchdog claimed Seagal did indeed violate the anti-touting provisions of federal securities law, though the celeb has not admitted any liability as part of his settlement.
Under the terms of the out-of-court deal [PDF], 67-year-old Seagal, who now resides in Moscow, will make two separate payments of $157,000: one considered a disgorgement, and the other a penalty. He has also agreed to get out of the securities endorsement business for at least the next three years. ®