Wake me up before you Gogo ... so I can jump out: Kenyan MP takes on aeroplane flatulence
Further investigation suggests she may actually have a point
While Kenyan politicians discussed possible amendments to safety protocols on commercial flights this week, one delivered an impassioned plea.
Not about how to thwart terrorism or hijackings, though. Instead she launched a scathing attack on the inalienable human right to pass wind.
According to the Daily Nation newspaper, Dr Lilian Achieng Gogo, MP for Rangwe near the eastern shores of Lake Victoria, told her colleagues: "There is one irritant that is often ignored and this is the level of farting within the aircraft. There are passengers, who literary irritate [sic] fellow passengers by passing bad smell and uncomfortable fart [sic].
"If there is anyone given irritant [sic] that makes people fight on board, it is the fart, it is terrible within the plane."
The east African country's transport committee had been working on updates to the "Montreal Protocol for the Suppression of Unlawful Acts of Violence at Airports serving International Civil Aviation", a multilateral treaty with 188 signatories which criminalises certain behaviour at airports and aboard civilian aircraft. This includes things like acts of violence, causing damage and taking dangerous items on board.
The Daily Nation said that the MPs are pursuing a "basic system aboard flights to check the level of discomfort that passengers undergo through [sic] especially during long flights".
People with digestive systems and anuses will be glad to know that farting does not feature in the treaty. However, the omission was not lost on Gogo, who argued that improper management of flatulence could pose a security risk.
Naturally, she was taken to task by fellow MPs about how she would police air biscuits in the cabin. Gogo responded that crew would require "special training" to "provide medicines like bicarbonate of soda to passengers after meals and drinks have been served. We should also have paramedics, who are trained in basic first aid included in the international and local flights."
What she didn't seem to consider was that the sole reason cabin crew exist is to ensure passenger safety and most are fully trained first responders. While we are not medical professionals, The Register has never heard of a paramedic being called out to a bottom burp.
Gogo must have shared flights with some true butt trumpet maestros, however, as she insisted on-board food must be tailored to keep emissions at a minimum and that alcohol only makes the problem worse. She singled out Kisumu-Nairobi and Nairobi-Mombasa flights as particularly noxious.
"If I am the only one who has experienced this," she thundered, "then I think the rest of us are very lucky. We should have basic provisions of medicines such as Eno [an antacid brand] other than paracetamols on the flight.
"I have experienced passengers go through the agony of long flights [sic]. We cannot be secure on board when the other passengers are experiencing discomfort. Farting and flatulence [er, one and the same, no? – Ed] is done progressively and can be contained [sic]."
The Daily Nation reported that Pokot South MP David Pkosing, chairman of the committee, said Gogo's comments would have helped shape their proposals had she actually presented them at the time, rather than during the debate on whether to adopt the changes.
Your correspondent is not a frequent flier by any stretch and cannot remember an incident as offensive as what Gogo claims to have experienced. However, we opened the floor to a resident Register jet-setter, whose eyes glazed over as he recalled:
It was back in the early '00s, and I was on a flight to the old Bangalore airport in a 747. I was fortunate enough to be in Business Class, where British Airways had fitted lie-flat seats. The cabin lights had been dimmed so we could all get some sleep. That's when it started. Someone, somewhere was farting silently.
It was like some sort of meerkat festival as heads popped up from behind screens to work out where the horrifyingly foul stench was coming from. It went on for hours and was relentless.
Eventually, someone asked the cabin crew to investigate, and a woman who'd clearly drawn the short straw paced the aisles to identify the source. The danger of discovery stopped the farter dead in his (or her) tracks.
And then it started again.
A few more hours passed, and with eyes watering, we prepared for landing. The farts just kept coming. However, anyone who has flown into the old Bangalore airport knows that landing there back in the day was a tad tricky. Sure enough, when we were close enough to spot washing on lines, the pilot changed his mind, opened the throttles and powered the old thing back up for another go.
I can only assume the experience was so scary for the phantom farter that he or she shat themselves on the spot. Or their sphincter clenched so tightly in terror that no more emissions could be made. Either way, the remainder of the flight was blessedly fart-free as the stench dissipated.
Blimey. So perhaps Gogo really has touched a nerve there. Don't hesitate to share your stinky flight stories below so we can get a sense of just how far the treaty needs to be amended.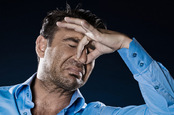 Aussie engineer accuses 'serial farter' supervisor of bullying, seeks $1.8m redress
READ MORE
Sadly, farting seems to be a bit of a theme in Kenyan politics. Just last month, the BBC reported how Homa Bay county assembly was disrupted by a trouser cough.
Member Julius Gaya spoke up: "Honourable Speaker, one of us has polluted the air and I know who it is."
J'accuse! The alleged offender hit back: "I am not the one. I cannot do such a thing in front of my colleagues." I'm Fartacus!
Speaker Edwin Kakach was forced to call a break and ordered officials to bring in air fresheners "to make it pleasant. Get whatever flavour you will find in any office, whether it's vanilla or strawberry.
"We cannot continue sitting in an environment that smells bad."
However, the stench was said to have "subsided" before such measures were necessary. The same cannot be said for the guff coming out of UK Parliament these days. ®