IBM looks to boost sales the same way it has for 65 years – yes, it's a new mainframe: The z15
Lineup looks to put a pep in the step of flailing systems group
IBM this month officially unveiled the newest addition to its Z-series mainframe lineup in roughly two years.
Big Blue's z15 family of big iron apparently features improved data security controls and better cloud integration along with the usual array of hardware upgrades you would expect from the first major update to the line since 2017.
Among the features touted by IBM is an integration with its Cloud Pak container-plus packages, a move that aims to make the mainframes more appealing to companies working with hybrid cloud setups.
The other selling point for the big iron will be data security features. IBM is packing the mainframes with its Data Privacy Passports system, which encrypts and manages both keys and access policies for data across multiple machines. There's also a new Z-series processor onboard, a 14nm 12-core chip that runs up to 5.2GHz and has, among other things, an improved branch predictor.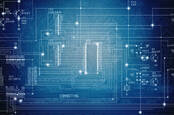 Get your royalty-free soft-core OpenPOWER processor core blueprints here. Extra, extra – read all about it
READ MORE
On the storage front, Big Blue says the mainframes will sport improved speed largely from an all-flash storage setup. A complete rundown of the DS8900F, the storage system paired with the z15, can be found on our sister site, Blocks and Files.
"IBM Z is an essential component for addressing top concerns around hybrid cloud like security, privacy and agility," says IBM z general manager Ross Mauri.
"With z15, our clients can have the cloud they want, with the privacy and security they need – protection for both traditional mission-critical workloads and newer workloads like digital asset custody or blockchain."
While mainframes may be considered a dated concept by some, the big iron beasts remain essential pieces for many large enterprises, particularly financial houses, where application performance, security, and uptime make the mainframe boxes an appealing option.
IBM is hoping that the z-series overhaul will bring a much-needed windfall to its ailing Systems line as well. In its last quarter, the hardware division saw revenues fall by 19.5 per cent, a fall blamed in part on the pending mainframe releases.
The hope is that, as the new line of fancy mainframes hit the market, companies who had been holding off on getting one of the aging z14s will opt to get the new models and inject a fresh wave of cash into Systems. ®