OpenWorld Oracle on Monday debuted a free, self-fixing Linux distribution for paying Oracle Cloud customers, and a free Cloud service tier that includes a limited version of its paid Autonomous Database, for winning developer favor and fostering future Cloud customers.
At its OpenWorld conference in San Francisco, co-founder and CTO Larry Ellison waxed rhapsodic about his company's autonomous technology, which is to say its software.
"Autonomous systems eliminate human labor," Ellison insisted. "And when you eliminate labor, you eliminate human error."
That may be oversimplifying the situation by implying that perfection follows from mechanized operation. But it's fair to say scripts, when thoroughly tested in a non-production environment, can help administrators avoid last-minute fat-fingered configuration errors and incorrect command invocation. That's why CI/CD exists as an alternative to manually typed commands.
To reinforce its fondness for the word "autonomous," which features prominently in the name of its much ballyhooed Autonomous Database, Oracle has grafted the term onto Linux. The resulting byproduct, Autonomous Linux, is essentially a managed version of Oracle Linux, one with less need for the tender ministrations of IT admins.
"It is the first and the only autonomous OS in the world," Ellison said.
That means automated provisioning, scaling, tuning, patching, upgrading, security monitoring and remediation, he explained.
"It's designed for extreme performance, highest reliability and it's always secure," said Ellison, pitching Red Hat customers with the prospect of a one-step migration.
Autonomous Linux has been designed to work with the Oracle OS Management Service, a cloud-based control plane that mixes machine learning and automated tuning routines to deliver patches, updates, compliance checks and system optimization without human intervention or downtime.
Oracle claims its depopulated, robo-Linux delivers a savings of 30 to 50 per cent over on-premises and hosted managed Linux providers. The Register has no way to check the Silicon Valley goliath's math.
"This capability effectively turns Oracle Linux into a service, freeing customers to focus their IT resources on application and user experience, where they can deliver true competitive differentiation," said Al Gillen, Group VP of software development and open source at consultancy IDC, in a statement.
Free as in beer
Meanwhile, Oracle, not known for its willingness to give its wares away, has decided to offer a free service tier to make the Oracle Cloud more appealing. It goal in doing so is to win the hearts and minds of developers and IT departments as they experiment with hosted apps.
"We want to get developers from all over the world," said Ellison. "We're giving you access to all our best stuff."
The company announced Oracle Cloud Free Tier, which consists of a set of Always Free services and a Free Trial, amounting to $300 in credits for 30 days to experiment with services not among the Always Free set.
The Always Free menu includes: Oracle Autonomous Database (two of either Data Warehouse or Transaction Processing databases, each with 1 OCPU and 20 GB of storage), Compute VMs (two instances, each with 1/8 OCPU and 1 GB memory), Block Volumes (two, 100 GB total, with up to 5 free backups), Object and Archive Storage (10 GB each, with 50,000 API calls per month), and Load Balancer (10 Mbps bandwidth).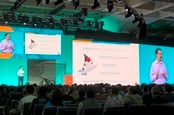 I got 99 problems but a switch() ain't one: Java SE 13 lands with various tweaks as per Oracle's less-is-more strategy
READ MORE
It also includes 10 TB/month Outbound Data Transfer, 500m ingestion Datapoints and 1bn Datapoints for Monitoring Service, and 1m Notification delivery options per month, and 1,000 emails per month.
Competing cloud providers like Amazon, Google, and Microsoft offer limited-time free trials, and some services that remain free below certain usage thresholds. Oracle claims it offers more more compute and storage than these firms do with their free trials. The Always Free Autonomous Database stays free for as long as it's used, the company says.
Oracle says it intends to give educators and students access to the Oracle Cloud Free Tier through Oracle Academy, its philanthropic arm, starting in 2020. There will be a curriculum focused on Oracle Autonomous Database and Oracle Application Express (APEX), a low-code tool, the company says.
"Everyone should leave now, open your laptop and give it a try," Ellison said to Open World attendees and then left the stage. ®
Similar topics