This article is more than 1 year old
US government sues ex-IT guy for breaking his NDA (Yes, we mean Edward Snowden)
Uncle Sam tries to plug leaker's pay, ends up plugging leaker's book
The US government today sued former CIA employee and NSA sysadmin contractor Edward Snowden to deny him payment from his newly published book, Permanent Record.
The civil lawsuit [PDF], filed in the Eastern District of Virginia, alleges that Snowden violated non-disclosure agreements signed as a condition of employment with the CIA and NSA. Those agreements require signatories to submit books to the respective agencies for review, prior to publication, to ensure classified information isn't disclosed.
Snowden in 2013 leaked a series of secret documents to the press, an act of whistleblowing intended to shine light on the breadth of blanket electronic surveillance carried out by the US and its allies. The revelations had a dramatic effect on the technology industry, prompting a broad reevaluation of basic security standards and hastened the deployment of encryption across the internet.
US authorities that year indicted Snowden on criminal espionage charges and cancelled his passport while he was at Sheremetyevo Airport in Moscow, Russia. After being stuck in the airport for more than a month, Snowden won asylum in Russia, and he still resides there. The US and Russia have no extradition treaty.
Permanent Record was published on Tuesday by Henry Holt and Company, an imprint of Macmillan Publishing Group, which is owned by Holtzbrinck Publishing Group, based in Germany.
The US Department of Justice is suing Snowden and those three affiliated publishing entities to prevent the author from receiving any proceeds.
'No monetary benefits'
"Intelligence information should protect our nation, not provide personal profit," said G. Zachary Terwilliger, US Attorney for the Eastern District of Virginia, in a statement. "This lawsuit will ensure that Edward Snowden receives no monetary benefits from breaching the trust placed in him."
In a phone interview with The Register, David Greene, senior staff attorney and civil liberties director for the Electronic Frontier Foundation, said the lawsuit, like so much about the government's dealings with Snowden, seems overly punitive but it isn't unexpected.
Indeed, on Twitter last week, national security layer Bradley P. Moss observed that because Snowden was unlikely to have sought pre-publication review from the CIA and NSA, US authorities "can now go after all the proceeds from the book, even if he intended to donate every last cent to charity."
Greene said that this case differs from Snepp v. United States, a US Supreme Court precedent involving a former CIA agent who published a book about his intelligence activities and was denied proceeds, in that all the information in the book related to Snowden's work was previously disclosed, or so he assumes.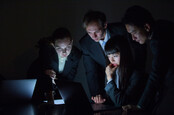 NSA: That ginormous effort to slurp up Americans' phone records that Snowden exposed? Ehhh, we don't need that no more
READ MORE
Ben Wizner, director of the ACLU's Speech, Privacy, and Technology Project and attorney for Snowden, confirmed as much in a statement. "This book contains no government secrets that have not been previously published by respected news organizations," he said. "Had Mr Snowden believed that the government would review his book in good faith, he would have submitted it for review. But the government continues to insist that facts that are known and discussed throughout the world are still somehow classified."
Greene said he expects the government will argue that the facts disclosed are irrelevant and that a review is contractually required regardless. As a defense, he said Snowden and his publisher may argue some form of futility defense, whereby a contractual requirement may be excused if it's deemed futile.
Wizner said Snowden wrote the book to inspire continued conversation about mass surveillance.
Snowden himself proved quick to grasp the marketing value of the litigation. In a Twitter post promoting Permanent Record, he said, "This is the book the government does not want you to read."
Uncle Sam's legal eagles appear to have anticipated this by insisting that it "does not seek to stop or restrict the publication or distribution of Permanent Record." It claims it just wants to stop Snowden from being paid. ®