You know SAP's doing a great job when a third of German users say they 'have no confidence in it'
Savage
---
SAP's German customers are using a meeting in Nuremberg to complain the company should be doing more to make its products usable.
The enterprise software outfit's German-speaking users group – Deutschsprachige SAP-Anwendergruppe e.V. (DSAG) – surveyed members (PDF) to find out how well the company's products were helping digital transformation.
The overwhelming message was that many in the group do not have a lot of faith in SAP.
The survey found: "Only 24 per cent of DSAG members feel well-informed by SAP. 45 per cent partly trust [its] product strategy, while 30 per cent of users have no confidence in it."
Customers have some robust advice as to how SAP could improve.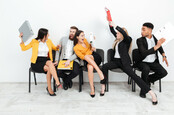 SAP to spend €950m on restructure: The thing is, 'loyal workforce', we want the 'best' minds
READ MORE
These include: better integration; uniform master data; enhanced and stable functionality; and scalable solutions and licensing models.
SAP users said digitisation projects are being driven by the need to improve existing business processes (62 per cent), with 40 per cent of projects being driven by the development of new business models.
Barriers to this are not all the fault of SAP: a lack of staff and money was blamed by 42 per cent of those surveyed and an under-developed digital corporate culture was mentioned by 38 per cent.
Over half of projects fail to be implemented successfully, either for technical or organisational reasons.
Last year, German supermarket Lidl reportedly cancelled a SAP project after spending around £500m trying to make it work.
Customers complained in the study that as they increasingly use SAP within hybrid environments, the biz software provider needs to improve and simplify licensing agreements.
The survey was carried out online over the summer in Germany, Austria and Switzerland, with over half of respondents - of a total of 271 - working at firms with between 500 and 5,000 employees.
An SAP spokesman sent us the following: "The survey showed that 70 per cent of customers in Germany, Austria, and Switzerland are satisfied with SAP's product strategy. We take our customers' feedback seriously. We have always been in close contact with our customers and user groups, especially DSAG. Our focus is on a seamless integration of all our products and their scalability for an on-premise, cloud based or hybrid solution." ®
Similar topics
Narrower topics