This article is more than 1 year old
Ebuygumm doesn't break t' Nominet rules, eBay and Gumtree told
By 'eck! Geoffrey Boycott-inspired domain sees off tat bazaar challenge
eBay and Gumtree have lost a legal fight to kill off a British wannabe rival thanks to Geoffrey Boycott's usage of a well-known Yorkshireism.
Auto Claims Ltd, registrant of the ebuygumm.co.uk domain name, successfully saw off eBay and Gumtree by claiming its name is based on the old Yorkshire phrase "ee bah gum" and has nothing to do with either of the English-speaking world's most well-known online flea markets.
Nominet's dispute resolution service ruled on whether or not eBay and Gumtree were right to complain that ebuygumm.co.uk infringed their trademarks and was an impermissible domain name under the UK domain registrar's rules.
Had they won, Ebuygumm would have been deprived of its web domain and quite probably its existence. Yet Nominet dispute resolution expert Michael Silverleaf ruled that "mere calling to mind is insufficient to create a legal cause of action", adding that "anyone who listens to Geoffrey Boycott commentating on cricket is likely to have heard" the phrase, ee bah gum.
Ee bah gum means "oh my god" in the Yorkshire dialect.
Silverleaf continued: "I believe that ee bah gum is quite likely to be recognised by a significant proportion of the public across the UK despite the fact that it originates in Yorkshire in the same way that well-known cockney rhyming slang (such as 'apples and pears' for stairs and 'butcher's', short for butcher's hook, for look) is widely recognised if not widely used."
Ebuygumm told Nominet its name had absolutely nothing at all to do with a pun on eBay and Gumtree. The Birmingham-based site spelled out the Yorkshire connotations of its own name:
The letter "E" is used in place of "eeh" or "ee" as a reference to e-commerce and "buy" in place of "by" or "bah" as a reference to buying and selling which is the purpose of the site. These combine to produce EBUY.
"Gumm", as presented in the original logo, was in "Google type colours" of blue, yellow, green and red and allegedly in the same typeface as eBay's logo, though after eBay got legally shirty Ebuygumm eventually recoloured the letters blue.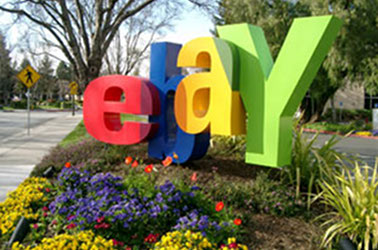 eBay's multicoloured logo
Despite eBay and Gumtree trying to convince Nominet that the explanation for the Ebuygumm name was obvious nonsense ("the phrase is archaic, originated in Yorkshire and is used almost exclusively there, is not commonly used and will not be known to the majority of people outside Yorkshire or to young people"), Silverleaf ruled that the two American sites had brought forward "no evidence to back up any of these assertions".
Finding against them, Silverleaf said the public doesn't mentally jumble trademarks together and confuse them for each other.
He added, in a cheeky aside: "Yorkshire people are widely considered to be careful with money. Being careful with money might be seen as a good impression for an online marketplace to give."
eBay was also slapped down for casually referring to Ebuyer, a British electronics reseller site, as "unlawful and potentially infringing", with Silverleaf stating: "It is not as described by the complainants… [they] are casting their net too widely in their assertion of similarity."
Items currently for sale on Ebuygumm include an unpainted wooden bog seat, a Ford Transit radio frontplate and dog flea medication. ®
Backendnote
Vulture Central's scribes consulted with real live Yorkshiremen in Yorkshire for the writing of this article, one of whom commented on the case: "I feel that was an elaborate joke." No flat caps or whippets were harmed. Your statutory rights are probably affected, not that you care enough to check how or why.