Huawei to lob devs $1.5bn in apparent effort to Trump-proof cloud and mobile ecosystem
Nugget dropped in keynote focused on cloud and AI announcements
---
Connect 2019 Huawei will plough $1.5bn into a developer programme to swell the ranks of coders that write software for its kit in an apparent effort to counter moves by the American government to ban US suppliers from dealing with the Chinese firm.
The investment and an update on its business strategy, along with a flurry of announcements on cloud and AI tech, were outlined at Huawei's Connect 2019 event, which is currently under way in Shanghai.
Deputy chairman Ken Hu went public with the company's plans in the first keynote, acknowledging that "for the past six months, Huawei has been put under a lot of pressure."
Despite Hu's insistence that "I think we are doing fine," uncertainty about Huawei's future relationship with the US and how that impacts both on its market and its use of technology – such as Arm processors, Google's Android and Microsoft's Windows – must make strategic planning difficult.
Just three weeks ago, Google confirmed Huawei's new smartphone, the Mate 30, which was released today, will not include Google Maps, YouTube and Gmail because of US sanctions preventing Huawei from doing business with American companies.
The Chinese firm's size and that of its home market does give Huawei options, though, some of which it is already exploring. The MateBook X Pro laptop, for example, now has the option to come with deepin Linux in place of Windows. Huawei has also developed an open-source operating system called Hongmeng or Harmony OS for IoT devices and perhaps at some point for smartphones.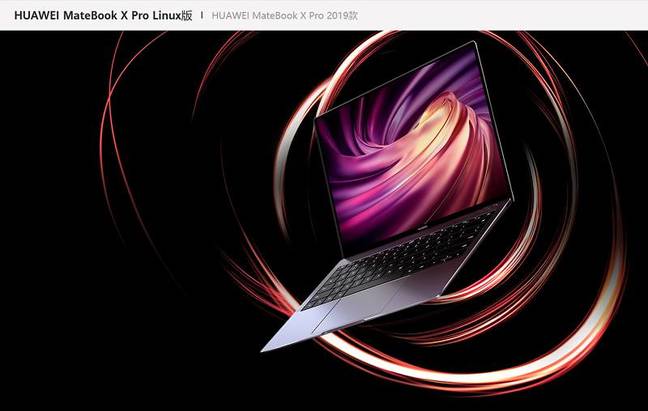 The Huawei Matebook X Pro Linux option is currently only in China
But at Connect, Hu focused on Huawei's broad strategic aims – among them a $1.5bn investment in its Huawei Developer Program, aiming to expand it from the current 1.3 million developers to 5 million.
The scheme covers both application development for mobile devices, which may be offered through the company's AppGallery distribution program, and SDKs for Huawei cloud services. There is also the Ability Gallery, where you can plug your service into Huawei's search and assistance tools.
"We won't develop applications ourselves, but we will provide tools and teams to help our partners develop and port their applications more efficiently," said Hu.
Huawei is not the first company to appeal to developers to strengthen its ecosystem. It is a powerful strategy, but only if you can deliver developers a strong market for their applications, otherwise (as Microsoft discovered with Windows Phone) pouring money into developer initiatives is not sufficient. Huawei, however, has its huge home market to fall back on.
Homegrown Huawei hardware
Elsewhere in his presentation, Hu focused on homegrown hardware. Huawei has four processor families: Kunpeng (Arm-based) for general-purpose computing and servers, Kirin for smart devices, Ascend for AI, and Honghu for displays.
Hu said that Huawei will not sell processors directly, but will offer "accelerator cards and modules" to partners.
Huawei has big ambitions for Kunpeng, which it sees as a green option, thanks to the power efficiency of Arm processors, and as something that will be used everywhere from cloud services to storage, servers and PCs. "Kunpeng-based computing is in development to gradually cover all industries and scenarios," says the white paper on the subject. The paper also states: "The Kunpeng processor is developed using the Armv8 architecture permanently authorized by Arm."
Hu announced the Atlas 900 AI cluster, using "thousands of Ascend processors", which he claimed broke the world record for AI training using the ResNet-50 model. Atlas 900 will be sold as a cloud service. Huawei also announced the Atlas 800 4U server and the Atlas 300 training card.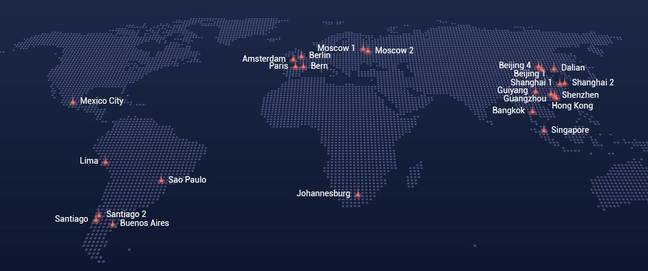 Huawei has a substantial cloud business, though most regions are in the Far East
The company is also building its cloud services. Huawei flogs a wide range, including compute, storage, database and VDI, many based on a partnership with Microsoft for Azure technology.
There will now be 43 new cloud services based on Ascend processors, announced in a day-two Connect keynote from Hou Jinlong, president of cloud and AI products and services. These services includes AI inference, AI training, autonomous driving training, image search, content moderation and knowledge graph construction.
The autonomous driving service is called "Octopus", and according to Huawei it "accelerates the iteration frequency of autonomous driving algorithms from months to weeks and helps vehicle enterprises quickly develop autonomous driving products".
Other Connect announcements include the OceanStor Dorado all-flash storage platform, based on Kunpeng and Ascend processors, and a range of OptiX network products for optical data transmission in data centres. The OptiXtrans DC908 has a 48T transmission capacity per optical fibre, said the company.
Recent trade tensions, bans and relaxing of bans on not one but two occasions are driving Huawei towards more homegrown and open-source technology. There are aspects many will welcome, such as the appearance of more high-quality Linux laptops. ®
Similar topics
Narrower topics