This article is more than 1 year old
Google: Read my lips. You cannot link up a G Suite account with Nest smart home gizmos
'Aggravating and alarming!'
Nest users are shouting at Google to let them register G Suite accounts to their home assistant and automation devices.
We're waiting to hear back from Google, but so far its tech support is sticking to the line that there is no way to register a G Suite account and only a freebie Gmail addy will do.
A support droid wrote on this thread: "G Suite accounts are accounts set up by businesses or organizations to access different Google business productivity tools. You can't use a G Suite account because the account data is managed by your organization. Use your personal Google Account or create a Google Account to sign in to the app."
"This is aggravating and alarming," according to one of the calmer posters.
"We hear your frustration and understand change isn't easy," support cooed. "Our first step as Google Nest was to go beyond the idea of a 'smart home,' and to focus instead on creating a 'helpful home'. With that comes some growing pains, but our goal is simple: earn and keep your trust by clearly explaining how our products work and how we'll uphold our commitment to respect your privacy."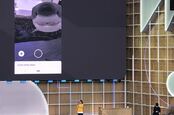 Google jumps the shark from search results to your camera: Nest Hub, Pixels, and more from ad giant's coder confab
READ MORE
Other posters pointed out that G Suite is not just used by businesses – some families use them to manage accounts for their members.
Nest has been pulled ever closer into the Chocolate Factory's sticky embrace since it was bought for $3.2bn in 2014, which included its rebranding as Google Nest.
But users are resisting and remain suspicious of the data giant's motives – tying Nest data into other Google data ponds will bring obvious advantages to the company.
By shifting to a Gmail account, users will lose some functions including any Works with Nest connections they have set up.
This is not the first time Google has risked the wrath of Nesters. Earlier this year, the ad giant performed a swift U-turn on its decision to ditch support for the Works with Nest API. ®