Hey, NPM. How do you like your Bogensberger? He's, well, done: CEO Bryan ejects from biz
JavaScript packager seeks new boss amid internal friction, firings, unionization attempts
NPM Inc, the JavaScript package registry, is looking for a new CEO. Bryan Bogensberger, hired in January to develop the company's enterprise business, resigned today "to pursue new opportunities."
According to people familiar with the matter, Bogensberger was asked to leave by the company's board of directors.
"I am proud of the complete transformation we have been able to make in such a short period of time," said Bogensberger in a statement. "I wish this completely revamped, passionate team monumental success in the years to come!"
An internal message to NPM staff from company co-founder Isaac Schlueter, seen by The Register, admits this has been a rough year for the software company, and that Bogensberger's departure "will probably be interpreted as negative news, or chalked up as a win for folks who have been critical of NPM."
As The Register reported over the past few months, Bogensberger's leadership of the JavaScript biz resulted in internal friction over the direction of the company, significant staff turnover, and the firing of several employees following an attempt to unionize. The firm settled claims brought by three sacked workers in July, the same month that co-founder and chief data officer Laurie Voss resigned.
Millions of devs
NPM Inc operates the npm registry, which provides JavaScript developers a central store of modules they can use to add functionality to their code. It's used by some 11 million developers, which results in significant computing infrastructure costs, something the biz took steps to reduce a week ago by limiting organizations to five million requests per month.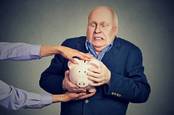 After banning adverts in command-line terminals, NPM floats idea of Patreon-style donations to open-source devs
READ MORE
Oakland-based NPM faces a problem common to many open-source software businesses: figuring out how to sustain itself. The company's registry service is free to individuals and $7 a month for teams, which isn't enough to keep the lights on. Its predicament is compounded by the fact many in the JavaScript community regret allowing a private business to control such an important piece of infrastructure for developers. And work is underway to change that.
Bogensberger was brought in to build the company's enterprise business and over the summer participated in fundraising efforts. In June, he sent an internal memo to staff assuring them the company had enough funds to operate into 2020 and there's been no further word from the business about whether its financial situation has improved.
In his email, Schlueter nonetheless insisted the future is bright for NPM. "This transition is a chance for NPM to reassess its priorities, and to focus our efforts behind those priorities that truly matter to our users," he wrote.
Jonathan Cowperthwait, former VP of marketing at NPM Inc, struck a similar optimistic tone in a note to The Register. "NPM is fundamentally well-positioned, and still has a unique advantage in the developer tools space by being the center of the open source universe," he said. "Many of us spent the last year watching our friends and colleagues' struggle through our fingers, but I'm still profoundly confident in the company's ability to turn this around." ®