Apple has proudly announced it will make its next-generation Mac Pro at its plant in Texas after it received federal tariff exclusions on parts imported from China into America.
"As part of its commitment to US economic growth, Apple today confirmed that its newly redesigned Mac Pro will be manufactured in Austin, Texas," the Silicon Valley giant boasted on Monday morning.
Some took the news as evidence that President Trump's trade war with China, in which he has repeatedly expanded and increased tariffs on products from the country, was starting to pay dividends and he had successfully pressured one of America's largest companies to bring more production into the country.
Except.
Apple has assembled the Mac Pro at its factory in Austin since 2013. And President Trump specifically said he would not allow the very exemptions that Apple said it has now received. There is, of course, a tweet.
"Apple will not be given Tariff waiver, or relief, for Mac Pro parts that are made in China. Make them in the USA, no Tariffs!" the president announced in July.
What has changed since then? Very little. Except Apple appears to have navigated around the president by playing up to his confusion. For one thing, President Trump has repeatedly asserted that Apple was building its computers in Wisconsin, which it isn't.
A few weeks after his "no Apple waiver" tweet, the president told reporters at the White House that he had heard Apple was planning to build the next Mac Pro in China – there's no evidence of that beyond rumors in the Wall Street Journal – and that he had now heard that it was going to build a new plant in Texas to make them in America, thanks in large part to his tariffs. Apple isn't; it already had the Austin factory.
All kinds of wrong
Here's what he said: "Well I want Apple to build their plants in the United States. I don't want them to build them in China. So when I heard they're going to build it in China, I said 'It's OK, you can build in China, but when you send your product into the United States, we're gonna tariff you.' But we'll work it out."
He went on: "A man I have a lot of liking for and respect is Tim Cook, and we'll work it out. I think they're going to announce they're going to build a plant in Texas. And if they do that, I'm starting to get very happy."
President Trump: "A man I have a lot of liking for and respect is Tim Cook and we'll work it out. I think they're going to announce that they're going to build a plant in Texas. And if they do that, I'm starting to get very happy." pic.twitter.com/kOheQIUa7W

— The Hill (@thehill) July 27, 2019
So has literally nothing changed? Well, there has been a small change. According to Apple, it has made the new Mac Pro a more American product: "The new Mac Pro will include components designed, developed and manufactured by more than a dozen American companies for distribution to US customers. Manufacturers and suppliers across Arizona, Maine, New Mexico, New York, Oregon, Pennsylvania, Texas and Vermont, including Intersil and ON Semiconductor, are providing advanced technology."
But it's not clear if that is a new arrangement or if Apple has always bought the unspecified parts from those companies. Apple also engaged in a sleight of hand over its all-American new computer. It says: "The value of American-made components in the new Mac Pro is 2.5 times greater than in Apple's previous generation Mac Pro." Note the word "value" in there – not number. What does that mean in reality? We don't know and Apple is not keen to explain.
Apple then pumped a series of additional U-S-A! comments into the post: "The Mac Pro is Apple's most powerful computer ever and we're proud to be building it in Austin. We thank the administration for their support enabling this opportunity. We believe deeply in the power of American innovation. That's why every Apple product is designed and engineered in the US, and made up of parts from 36 states, supporting 450,000 jobs with US suppliers, and we're going to continue growing here."
Okaaay...
What's really going on, and why is this newsworthy?
The short answer is that Apple has managed to get some kind of exemption from Chinese tariffs by concocting a pro-America message and then promoting it in order to give the president an apparent win. It's unclear whether Trump is unaware or simply doesn't care about the reality of the situation so long as the perception aligns with his message.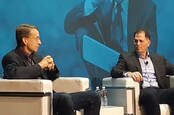 'Not productive for our business'... Michael Dell urges end to US-China tariff tit-for-tat spat
READ MORE
Why is this important? Because this sort of phony deal is only possible if the president pays specific attention to a company, and the company finds a way to pretend to be going along with the America First message.
In the real world, however, thousands of companies who cannot gain access to the Oval Office are soon to be hit with tariffs on imported parts from China, and there is a growing backlog of exemption requests that have not been approved or even processed. Those additional costs will fall on US consumers and companies, with prices expected to rise in the new year unless a trade deal is struck.
The tech industry is about to hit a wall, and with China making it plain that it intends to ride out the storm, it will require President Trump to back away from his aggressive posturing for a new deal to be struck.
When that the deal fails to emerge, and every bit of tech kit gets significantly more expensive, at least we'll all be able to say "well Apple is continuing to make its over-priced Mac Pro at the Texas plant where it has always made it" and feel much better. ®
Similar topics