Gearheads get their spudgers into an iPhone 11 Pro Max: Bi-lateral charging, anyone?
Plus: Start the week right by watching Apple's latest being dropped repeatedly
A teardown of the iPhone 11 seems to have confirmed support for bi-lateral charging – the ability to charge another device using your phone's battery.
Aside from helping out a mate with a dead phone, that means you'll also be able to charge up wireless headphones.
The guys from iFixit took apart an iPhone 11 Pro Max and found an extra battery connector, which they reckon suggests bi-lateral charging support is on the cards.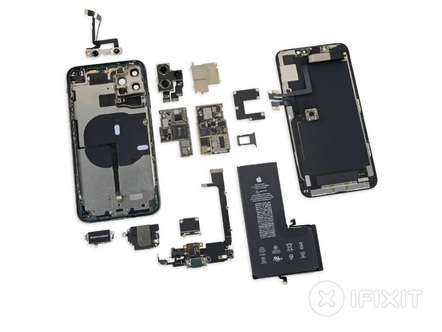 iPhone 11 Pro Max splayed out
They found the biggest upgrade was to the lens and ultra-wide sensor on the main camera. The other lenses were also improved, although they could not spot any dedicated camera RAM. The battery is also bigger at 3,969mAh compared to the 2,659mAh of the XS.
Battery access is relatively simple, like the iPhone 6 apparently, so replacing duff batteries should be possible – by Apple, of course, unless you want to end your warranty.
Under the battery, the iFixit chaps found a chip linking directly to the wireless charging coil. This is what they suspect is for bilateral charging, although Apple has put out a support document for what it describes as new hardware for monitoring and managing battery performance, which could also be the function of this chip. They also spotted thermal pads covering cut-throughs in the steel case lining, which they suspect is linked to ultra wideband antenna hardware.
Perhaps more entertainingly, the PhoneBuff website has invested in a "professional drop machine" to check Apple's claim that its latest phone has the world's toughest glass. They dropped both an iPhone 11 Pro Max and a rival phone – the Samsung Galaxy Note +.
Dropping both phones from a height of one metre onto their backs resulted in both glass backs breaking, although Apple's suffered worse.
Various other sites offer different drop tests and most produce different results. As bitter experience knows, even a small drop can knacker a phone, while a long drop sometimes does little damage.
If you'd like to start your week watching an iPhone 11 being repeatedly dropped until its dead, the video above is for you (action starts at 1:22).
Sadists can watch both phones dropped another nine times until the iPhone finally gives up the ghost, although bizarrely it came back to life during later testing. ®