Microsoft has new applications for Dynamics 365 that retailers will be pleased to note use data and AI to assist "personalisation" and optimisation across multiple retailing channels, including online and in-store.
The company also claims to be making virtual agents, or bots, easier to author and with behaviour that is more human-like.
The existing Dynamics 365 Retail application will become Dynamics 365 Commerce, and aims to bring together data from back-office systems, web, call centre and physical retail outlets. This works alongside a second, new application called Dynamics 365 Connected Store, now in private preview. Connected Store uses data from cameras and sensors to generate alerts as well as to help retailers analyse performance. The IoT data is analysed using an Azure service, and can generate alerts in Microsoft Teams, the Office 365 collaboration tool.
Examples of this in use would be to detect a freezer malfunction in time to remove food and avoid waste, or to alert staff of long queues at checkouts. You could also analyse the busiest and best-performing locations in a store – this concept, however, is hardly new. There is always potential to improve though by drawing in more data.
Microsoft's new applications, and enhancements to existing ones like Customer Insights, also promise to improve personalisation. Customer Insights brings together profile information such as address, segment and interests, with interaction history such as marketing emails opened, website visits, social media posts and of course purchases. One of the ideas is that a store manager might use this to recommend additional purchases when a customer visits to pick up an order placed online, for example.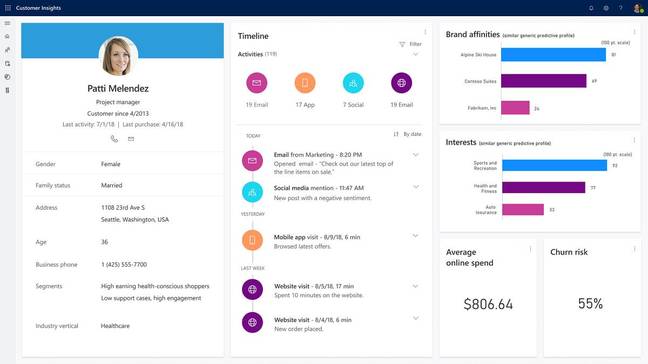 Dynamics 365 Customer Insights shows detailed profile and purchasing history
Data protection
What are the privacy implications? No surprise that the topic is not mentioned in Microsoft's materials, though the amount of information disclosed to retailers in the Customer Insights illustration is illuminating and a reminder to the privacy-minded to take care both over what information you give and how you consent for it to be used.
Microsoft has also announced Dynamics 365 Product Insights, in preview from 1 October, a new application which uses IoT data from physical products to analyse performance and usage. This ranges from anomalies that may inform quality control to usage patterns that are more about marketing. Connect this up with customer data and you can learn a lot about how products are used and how to market add-ons or replacements. Where this is aimed at the B2B (business to business) market privacy is not such a big issue, otherwise similar caveats apply.
Microsoft also announced that general availability for its virtual agent technology will be from 1 December 2019, complete with enhancements over the current preview. This is for applications such as customer service bots. The claim is that with the Power Platform and applications like Microsoft Flow, for building automated workflows, you can build human-like agents without writing code, to deal with common questions like balance requests, date of service visits and so on. The virtual agents use Microsoft's Azure Bot Service, which integrates with the company's range of Cognitive Services for things like speech and image recognition. New features include authoring and web publishing tools, and built-in analytics to show virtual agent performance and customer satisfaction.
Finally, IoT Intelligence for Dynamics 365 Supply Chain Management, in preview from 1st October, is a new application aimed at the manufacturing process, using IoT sensors to monitor quality and predict maintenance issues.
The theme overall is to use pervasive data, IoT, machine learning and AI to streamline production and improve customer interaction. On the marketing side Microsoft is if anything late to the game, but its ability to link up with Office 365 and Azure services does give it potential to deliver an effective connected system. Making this work smoothly will be challenging, if past experience is a reliable guide, and on the consumer marketing side the boundary between happy personalisation and creepy tracking is one that deserves careful attention. ®