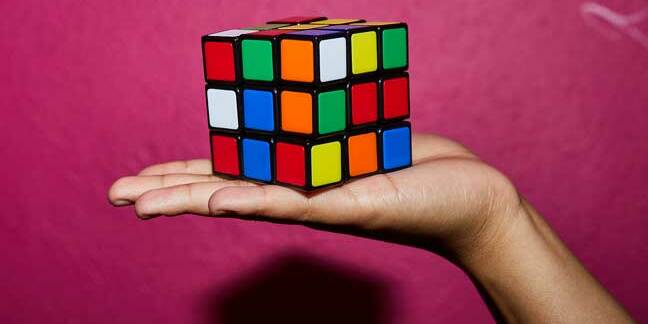 Speed-cubers, artists, entertainers and at least one Guinness World Records judge will have their hands well occupied during next week's free-entry Rubik's Cube "Pop-Up Experience" in London.
Despite plenty of media appearances, heavy marketing at toy shows and art installations over the years, it's the first time an event like this has been organised by Rubik's Brand Ltd, the owners of the rights to the Rubik's Cube.
Speed-cubing champ George Scholey has been booked to make an appearance, hopefully to show us cack-handed numpties how it's done. You may also like to try Carpool Cubeioke, a non-pun that involves riding around the city landmarks in a Rubik's-liveried London taxi while taking cube-solving lessons.
The Norwegian "cube artist" (as labelled by the event organiser) known as @Cubearting plans to build a mosaic of the Queen from 1,800 cubes with the help of visitors, hoping to break a Guinness World Record in the process.
Cute: if you can't get in the Guinness Book by solving the Rubik's Cube quickly, you can always get in there by coaxing unwitting members of the public to do something equally pointless for you.
There will be the usual family-friendly pop-up fare too – magicians, face-painting and so on – if you're interested in that sort of thing.
For some of us, the very thought of a Rubik's Cube conjures childhood memories of greasy-haired Smart Alecs on Blue Peter, but Rubik's Brand CEO Christoph Bettin insisted that its appeal is thoroughly up to date: "The brand captured the zeitgeist of the 1980s and its popularity has endured, with its fanbase growing year by year."
But is there really a surge among younger generations? "Yes," Bettin told The Reg, "we have experienced double-digit growth over the last few years driven primarily by 8 to 12 year olds."
And the older geezers? "We have lifelong fans. Many collect the different cubes we have produced over time or revert back to it as their 'party trick'."
The Rubik's Cube turns 40 next year, so this London pop-up looks like a warm-up before the big event. However, die-hards and pedants ought to be satisfied that 2019 marks 45 years since Ernő Rubik came up with his original prototype. Next year's anniversary does not include the years when it was marketed as the Magic Cube, either.
Still, even 39 years is worth a trip dahn the smoke for a little wrist-bashing celebration. As Bettin modestly notes about his meal ticket: "It's a truly omnipresent toy that people hold in great affection."
The event takes place on 1 and 2 October at 9-11 Short's Gardens, Seven Dials, Covent Garden, London WC2H 9AT. ®
Sponsored: Webcast: Ransomware has gone nuclear