This article is more than 1 year old
Tech CEO thrown in the clink for seven years for H-1B gang-master role: Crim farmed out foreign staff as cheap labor
Workers brought over from India were supposed to tackle specific projects – not fill a pool for short contracts
Pradyumna Kumar Samal, the CEO of two US tech firms, was this month jailed for seven years for what prosecutors called "the largest and most sophisticated H-1B scheme ever prosecuted" in Seattle.
Samal pleaded guilty to defrauding the US government by lying on visa applications and failing to pay over $1m in employment taxes. His scheme involved hundreds of foreign nationals, the majority from India, that he charged $5,000 to get into the United States on H-1B technology worker visas – a fee that his companies Divensi and Azimetry are legally obliged to pay under the visa system.
Samal falsely claimed that each applicant was lined up to carry out specialty IT projects. Each project was listed as lasting the maximum amount of time allowed under the program, prosecutors noted [PDF]. In truth, there were no such projects, and workers were simply added to a pool of labor that Samal then farmed out under short-term contracts to a range of clients.
The workers went unpaid if they weren't hired: Samal forced them to submit phony sick and annual leave requests so he wasn't obliged to pay them a salary. He also submitted papers that stated the workers were being hired at lower rates than he was charging third parties. And he took 401k retirement contributions from his workers and banked them in his own accounts.
As well as charging the workers for their visa applications, Samal forged the signatures of his client's senior executives to push the paperwork through the system. And in addition to lying to and exploiting both his workers and his clients, Samal also lied to immigration officials when they started inquiring about his work, coached employees to lie to US consulates so their stories were consistent with the false statements in their applications, destroyed incriminating documents, and concealed assets.
The old fake workstation approach
When immigration officers conducted site visits to his offices, Samal installed fake workstations, prosecutors said, to make it look as though the uncontracted employees were actually working. He made $1.6m from the scheme, prosecutors estimate.
When it became clear the net was closing in – the government had started sending letters to his clients asking for details of their contracts – Samal claimed the entire scheme was organized by his former CFO who had left the company months earlier. He then sold his companies and flew to India where he banked the proceeds from the sale. He was arrested at Seattle's international airport when he returned in August 2018 – on the advice of his spiritual advisor who told him it would be safe.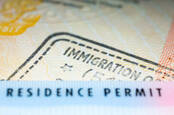 IT biz Web Yoga adopts contrition pose, admits it turned blind eye to college's H-1B visa fraud
READ MORE
We know that because when federal agents searched his computer they found messages between the pair in which Samal agonized about returning to the US. His lawyer had told him not to but he was assured by his Guruji that god would "take care that the entire journey is without problem." He was livid when he was then arrested and has been in jail ever since.
It actually gets worse: Samal started the scam while still on probation for another crime. In 2009, he was found guilty of computer intrusion after he directed an employee to take down a client's website. He then lied about it to the FBI. Samal reached a plea deal… and then started up Divensi and Azimetry in 2010 and 2011 while still on probation.
Samal apologized profusely to the court in the visa scam case, claiming that he was driven by ambition and took "shortcuts" in his effort to meet urgent client demands. The prosecutors were not impressed.
"In truth, Samal's businesses were riddled with fraud and criminality from top to bottom," they argued. "Forgery, lies and deceit were part of the everyday routine at Azimetry and Divensi, and that was the case from the inception of those businesses – businesses which began before Samal's probation from his prior case had even expired."
The judge was similarly unmoved. On top of the 87 months in jail for mail fraud and tax charges, Samal was ordered [PDF] on Friday to pay $1.1m in restitution and a $10,000 fine. ®