This article is more than 1 year old
WeWon'tWork: CEO Adam Neumann enters Low Earth Orbit to declare, I'm outta here
Office rental biz supremo huffs about 'scrutiny' as he ejects
WeWork's wildman CEO and co-founder Adam Neumann has been pushed out as chief exec of his post-profit property management biz.
The board of directors today confirmed rampant speculation that Neumann, who started the global-spanning office subletting shop in 2010 with Miguel McKelvey, was about be kicked out of the top job.
The Softbank-backed WeWork will now be headed by co-CEOs Artie Minson, formerly co-president and chief financial officer, and Sebastian Gunningham, formerly the board's vice-chairman.
Neumann, known for his party-animal lifestyle and dreams of becoming the immortal trillionaire president of the world, will stay on as non-executive chairman of the board. However, he will cede majority control by reducing the voting power of his shares from 10 votes per share to three.
"As co-founder of WeWork, I am so proud of this team and the incredible company that we have built over the last decade," Neumann said today after graciously entering Low Earth Orbit to deliver to the human race his departing message.
"While our business has never been stronger, in recent weeks, the scrutiny directed toward me has become a significant distraction and I have decided that it is in the best interest of the company to step down as chief executive."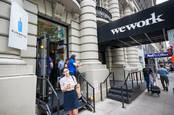 WeWork filed its IPO homework. So we had a look at its small print and... yowser. What has El Reg got itself into?
READ MORE
We presume that when Neumann talks of the "significant distraction" he is referring to the recent reports around his handling of the finances at a business that over the first half of this year lost almost $700m, from revenues of $1.5bn, and warned prospective IPO investors that it may never be profitable. Funnily enough, in July, Neumann apparently cashed out for $700m.
Things only got worse from there, as the upstart's estimated value took a nosedive and the IPO was postponed in order to give Neumann and his team time to figure things out. The biz, once touted as being worth $47bn, is now watching its value erode daily.
Last week, the heat was turned up further on Neumann to step aside following reports that once upon a time, in an effort to get itself on the right side of the balance sheet, the business fired seven per cent of its staff during a late-night all-hands meeting, then promptly treated the remaining bewildered employees to trays of tequila shots as rapper DMC, of Run-DMC fame, burst into the room to perform a rendition of It's Tricky.
All the while, Adam and wife Rebeka Neumann have become tabloid fodder with stories on everything from their cozy relationship with the Trumps to Rebeka's erratic management decisions. And by erratic, we mean firing staff within minutes of meeting them because she didn't like their energy, allegedly.
So, yes, it is definitely accurate for Neumann to say that he has brought no shortage of distractions to his company in recent months. That said, customers seemingly aren't helping either, apparently...
WeWork is shutting down ALL of their "honesty markets"—self-service snack kiosks—due to excessive theft, according to a WeWork staffer pic.twitter.com/6ciUwwprKp

— Madeleine Varner (@tenuous) September 24, 2019
Unfortunately for WeWork, its problems go far beyond the media coverage of the now-outgoing CEO. The company's financial crisis continues to rage, with reports indicated that a massive round of layoffs, as much as 5,000 people or one-third of the total workforce, will be rolled out later today in the shadow of Neumann's resignation. ®