This article is more than 1 year old
Time to check in again on the Atari retro console… dear God, it's actually got worse
Pro tip: When you're removed as a Reddit moderator, you may want to review your life choices
Yesterday, September 23, was officially autumnal equinox in the northern hemisphere: a fact that prompted a very frustrated gamer to ask Atari what was going on with the product that he had forked over hundreds of dollars for more than a year earlier.
"On your blog and repeatedly online you promised substantial updates this summer, but it's the last day of summer and it seems pretty clear from your social media activity that there's no immediate update coming. What happened to the updates?," he asked on the company's official subreddit.
"Fear not," the company's social media folk responded, "we certainly have something in the works! We did not specify it would be on September 22-23 exactly. Sorry for the misunderstanding! We appreciate everyone's patience as we craft an exciting announcement to share with you all!"
The response did not go over well.
"LIAR, yes you did, and now you say again SOON, come on SHOW US SOMETHING HUGE Because I'm VERY ANGRY," responded one. Another chimed in: "You said a few times this summer. Now we are in Fall. Tell us a REAL date, don't lie to us any more."
Another: "I don't believe you anymore." And another: "You very specifically said it would be by the end of summer. At this point, even your most staunch supporters are going to start calling you out… The best way to shut people up is to let your product do the talking. If you even have a product."
Yes, folks, we are of course talking about the Atari VCS, a retro console that was first announced more than two years ago and which the company has taken millions of dollars in "pre-orders" for, but for which there is still no indication that the company even has a working prototype.
Deadlines are for losers
Atari zoomed past its first launch date of December 2017 – something that resulted in a bizarre exchange between El Reg and its COO Michael Arzt in March 2018, in which he first tried to persuade us that it was absolutely normal to showcase an empty plastic box at a games industry event, and then accused us of being "irresponsible trolls" when we wrote it up. Unfortunately for Arzt, he had forgotten we recorded the interview.
Atari then promised to launch in July 2019 – more than a year later. But come March, it then moved the date again to March 2020. Even then it noted that "all dates are good faith estimates and subject to change due to unforeseen circumstances."
But with huge numbers of people having already paid the company $329 for their chance to get an updated version of the classic Atari VCS console – and with the company continuing to push its pre-orders – the retro kit biz is under pressure to at least update people on progress.
This led to a blog post in July – the same month as its second missed deadline – which said: "We look forward to showing off some of these modern gameplay examples and other great content publicly later this summer… We will bring back some new info and look forward to many more 'mission accomplished' moments ahead! Enjoy the summer!"
User rebellion
As the end of summer approached, one frustrated "customer" took to the Atari VCS subreddit to outline the updates that Atari has provided on all its social media channels since its July post. It didn't make for happy reading and the author summarized his findings at the bottom:
"Scorecard Since Shutting Down Backer Updates on IndieGoGo
References to other people's work or achievements: 12
Direct Facebook appeals to pre-order or buy something: 11 (exclusive of other social media)
Pictures or renders of non-functional plastic boxes: at least 18
Concrete indicators product is being manufactured: 0
Atari responded by… deleting the post. On a Reddit forum that it didn't run but had been invited to serve as a moderator. That also did not go over well. In fact, it's safe to say that people went into somewhat of a rage.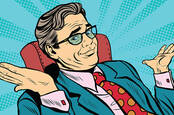 Atari accuses El Reg of professional trolling and making stuff up. Welp, here's the interview tape for you to decide...
READ MORE
So Atari responded by… deleting all the subsequent angry comments. At which point its representatives had their moderator rights removed. So Atari responded by… setting up its own subreddit where it has continued to delete posts and comments it doesn't like.
And if you think it couldn't get any worse, well then you don't know Atari. Because earlier this month when one of the last remaining threads of its credibility came under question when the architect of its new console – the system architect for the original Xbox and designer of PlayStation 3's graphic systems, Rob Wyatt – was named as the co-founder and CTO of a new gameboard startup.
Amazingly, it can get worse
Atari observers immediately started asking the company if Wyatt was still working on the console they have been waiting years for and the answer was predictably Atari.
"Is Rob Wyatt still with Atari?," asked one on the new, official, carefully monitored Atari subreddit. "On the old subreddit I had heard that Rob Wyatt had left the Atari VCS project to start his own project. Is this true?"
And the response: "Hello! Unfortunately, this rumor is circulating on the web. Rob Wyatt and Tin Giant work on many different projects. Atari fans should be excited for the Gameboard, too!"
Which it doesn't take a genius to realize is not exactly a straight answer. Is Wyatt still working on the VCS? We have emailed him and asked. No response yet.
So, in summary:
Atari has missed every single deadline it has ever set around the VCS console
It hasn't provided any updates for months despite repeat promises to do so
There is still no evidence that there is even a working prototype
The only man on the team with actual experience with building a games console is now the co-founder of another startup
Atari was booted off its own subreddit for deleting posts and comments it didn't like
We remain confident in our predictions over the Atari VCS' future success. ®