This article is more than 1 year old
Dropbox reinvents itself as a collaborative workspace – no, not the WeWork kind (phew)
File storage company launches new Spaces service
Dropbox now longer wants to be just a cloud storage service but the provider of "a calmer and more focused working environment" its CEO announced this morning.
The cloud biz has formally launched what it calls "Dropbox Spaces," an "evolution of the shared folder" which basically pulls a range of workspace services - messaging app Slack, video conferencing service Zoom and list-making app Trello - into one space and combines it with Dropbox cloud storage.
The basic plan was outlined in June and greeted with tentative interest combined with irritation that the price had jumped 20 per cent from earlier expectations.
CEO Drew Houston couldn't resist giving a Silicon Valley big picture speech about how the new service will help deal with everything from climate change to healthcare by "harnessing our collective intelligence," and he even felt that his new product might bring that most elusive of qualities - happiness - to billions by alleviating modern life's "constant distractions."
But underneath the big vision is something that might prove useful to work teams of all sorts and IT admins who might be able to get a better handle on the proliferation of services and software that employees increasingly use.
The company gave a quick demo: it's basically the same design as the current Dropbox but with Slack-like channels running down the side that pull in content, from Slack messages and Trello list to Zoom transcripts, into one spot. The idea is to allow people to create spontaneous workspaces for specific projects and suck in all the content from other places in one spot.
For example, if you drag a file from Dropbox into an existing Slack channel, then Dropbox's system will automatically create a new folder with the same name and pull in all the relevant content. You can also edit files within a Dropbox channel, allowing for a depth of collaboration that might work for people. If you are working within Dropbox's new channel you will also be able to do things like start a Zoom call with other members of that channel.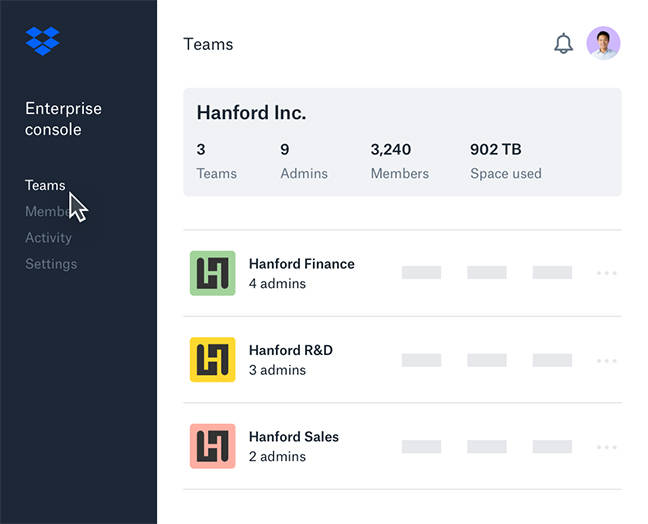 The admin interface for the new Spaces service
Click to speak
Zoom's CEO Eric Yuan joined Houston on stage to praise this "seamless integration" and embraced what you might think would be one of his main concerns - that people would be stepping away from his own company's software. "Why go to a Zoom interface?" he asked rhetorically, when you can just click and call within Dropbox. Of course Zoom makes it money from a monthly subscription so it doesn't much care where you start calls from so long as you pay for them.
There are other potential benefits: the company outlined additional corporate controls such as placing legal holds on content and new analytics tools that would allow admins to do things like see if any content was being shared externally at the click of a button. "This is a game changer," its director of product management Moran Shimron assured attendees at a special event in San Francisco.
But is it?
Houston made brief mention of his company last attempt to expand beyond simply storing files: Paper. That was Dropbox's attempt to take on Google Docs that was launched nearly two years ago but which has been singularly unsuccessful: it doesn't have the same sharing features or ability to format that Google Docs did.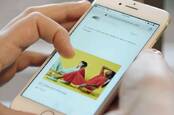 Dropbox would rather write code twice than try to make C++ work on both iOS and Android
READ MORE
Spaces tries to fix those limitations by allowing for greater editing of documents and a broader ability to share across multiple services. And it has managed to retain its simple user interface, rather than stick rigidly with the dropdown File system that we have all grown used to thanks to Microsoft, which was then simply copied by Google for its Docs interface.
We haven't had a chance to play with Spaces so it's hard to know right now what its quirks and limitations are, but with Dropbox saying it won't charge any extra for the service that its current storage service, it will be worth trying it out.
Houston indirectly acknowledged the bigger question on stage however. "People always ask me: why hasn't Dropbox been crushed by Microsoft or Google?" His answer: "The best groups of services will always survive."
Dropbox's storage service is consistently better than its rivals. Whether it is able to get past its Paper experience and offer a collaborative platform that also outperforms others we will have to wait and see. ®