Match.com? More like Match dot-con, claims watchdog: Cyber-lonely-hearts 'lured into forking out to view bot spam'
You have a new message, please pay to see it. Oh, it's from Klick4_n00dz_9000
America's trade watchdog claims the owner of Match.com, Tinder, and other dating sites, shafted its lonely-hearts by allowing obviously bogus bot profiles to feign interest in the singletons.
On Wednesday, the FTC alleged in a legal complaint that Match.com and other dating sites owned by Match group broke US law when they let accounts known to be fraudulent message netizens who had set up free profiles.
The problem, the regulator says in its Texas court paperwork (PDF), starts with the dotcom's business model of letting users join for free but charging them to view messages, or to see who is interested in them, and send replies.
In this case, the FTC says that the site allowed obvious scam accounts that had been banned from contacting paid customers to message people with free accounts. The free users were not told who was contacting them, nor see the content of the love note, nor that the sender had been flagged as a scammers.
Rather, the users were told they would need to upgrade to a paid account in order to see that sexy memo, and only then, after coughing up cash, were they notified that they were being courted by a bogus profile. In other words, the FTC says that not only did Match allow scammers to operate on its site, but it also used them to make money.
"We believe that Match.com conned people into paying for subscriptions via messages the company knew were from scammers," said FTC consumer protection bureau director Andrew Smith.
"Online dating services obviously shouldn't be using romance scammers as a way to fatten their bottom line."
The complaint goes on to note that Match also pitched itself to the internet's lonely hearts by offering a "guarantee" that they would meet someone, only to tack on a lengthy and complicated list of requirements and deadlines the customer would have to meet (including having a photo uploaded and approved within 7 days and connecting to communicate with at least five other people on the site) in order to qualify for the money-back guarantee.
Not surprisingly, Match Group is not taking kindly to the allegations that it makes its money by tricking the lonely on hopeful.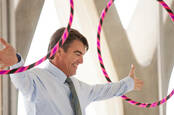 Equifax is going to make you work for that 125 bucks it owes each of you: Biz sneaks out Friday night rule change
READ MORE
"Fraud isn't good for business. That's why we fight it. We catch and neutralize 85 per cent of potentially improper accounts in the first four hours, typically before they are even active on the site, and 96 per cent of improper accounts within a day," Match Group said in its response to the complaint.
"For nearly 25 years Match.com has been focused on helping people find love and fighting the criminals that try to take advantage of users. We've developed industry leading tools and AI that block 96 per cent of bots and fake accounts from our site within a day and are relentless in our pursuit to rid our site of these malicious accounts. The FTC has misrepresented internal emails and relied on cherry-picked data to make outrageous claims and we intend to vigorously defend ourselves against these claims in court."
The FTC complaint accuses Match of violating the FTC Act provisions on misrepresentation, exposing consumers to fraud, deceptive guarantees, and unfair denial of account access, as well as violating the 'Restore Online Shoppers Confidence Act of 2010' by failing to provide a simple way to unsubscribe from the premium service.
Now, the commission is seeking an injunction and a jury trial to determine monetary damages. It is highly unlikely that the case will reach that stage, however, and a settlement deal is the most probable outcome. ®