For over a year, savvy journalists and policymakers have been refusing to swallow the hype around 5G, aka ultra-fast mobile broadband, pointing out some unwelcome realities about the technology.
This week they have been joined by an unlikely bunch: senior executives at the very cellular networks responsible for much of the nonsense in the first place.
It all started when T-Mobile US's CTO Neville Ray broke the dam and wrote an excoriating internet article about Verizon in which he accused his rival of misleading customers by saying it was offering 5G speeds in certain cities without disclosing the fact that 5G is only available in small and specific areas of said cities and without providing a map to tell them where they were.
It's a fair point. And one that has been made repeatedly by journalists who have been keen to try out this super-technology in the real world. But T-Mobile US likes to pride itself on being provocative even within its own industry and so it took things to the next level – actively marketing against Verizon with the (frankly rather poor) tagline "VerHIDEzon."
T-Mob even parked up vans with big screens accusing Verizon of misleading citizens outside the Big V's own stores, taking pictures and posting them online as part of a marketing push seemingly designed to specifically poke the competition.
As part of that push, Ray chimed in on everybody's favorite hate-media: Twitter. "Verizon continues to market their 5G nothing burger," he tweeted with a link to the blog post authored by him. "Charging customers for a limited 5G network without giving them maps to find it. Here's the 5G truth they need to be talking about."
Yeah? How about some of this?
Verizon's veep of comms Jeffrey Nelson clearly had had enough at this point, and fired back a link of his own, this time to a news article by telecoms web mag Light Reading that pointed out T-Mobile US's 5G claims are equally questionable.
"Hi, Neville," Nelson quipped. "Why won't you talk with reporters who have discovered TMo phones lighting up the 5G indicator when the user is actually on 4G LTE and *NOT* on 5G?"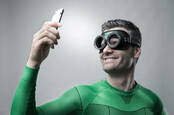 As sales crash, Gartner wonders who can rescue the smartphone market ... Aha, it is I! 5G Man!
READ MORE
Which is also a fair point. But, again, not really in the mobile industry's best interests since all of them are at it. The article itself is quite dry and covers a recent report by the Signals Research Group (SRG). It notes that the current state of 5G networks are such that the networks still need to use 4G LTE technology to do some network operations like authentication, but that T-Mobile US is blurring the lines by sending data over both 5G and LTE – and displaying the 5G icon when it does so.
SRG also noted that the 5G icon was being used somewhat randomly. From its report: "The 5G icon on the smartphone means absolutely nothing. We've documented 5G NR traffic when the 5G icon wasn't present, no 5G NR traffic when the 5G icon was present, including one instance when the traffic was going entirely over HSPA+."
But it wasn't just T-Mobile US that Verizon's exec took a potshot at. In the same tweet he condemned T-Mob by comparing it to the other main mobile operator in America: AT&T.
"There's a scandal... marketing dupe... right out of the ATT Faux 5G '5Ge' book," Nelson raged.
And another
And that of course refers to AT&T's own shady 5G offering where it added an "E" to the term "5G" and then claimed it wasn't at all confusing to people that the actual service was 4G LTE and not actually 5G.
All of which makes you wonder what on earth the mobile industry thinks it's doing. Having spent years lobbying Congress and federal regulators with wild claims about what 5G can do and will do if only barriers – like having to pay for additional towers, or enter into competition with cheaper, non-American companies – it seems the mobile industry has been caught wrong-footed.
It got what it wanted and now feels obliged to pretend it can actually deliver 5G today. What really tipped the balance though was when Verizon tried to make money from all the smoke-and-mirrors by charging people more for a 5G service that doesn't exist in any meaningful capacity. That is seemingly the line you don't cross in the US mobile industry.
All we hope is that mobile execs continue to engage in circular firing squads often enough that others – like the Ninth Circuit – pay attention. ®
Similar topics