This article is more than 1 year old
Oh cool, Alibaba's first home-grown AI chip. Oh wait, it's only for its own cloud servers... for now
The 12nm Hanguang 800 chip has 17 billion transistors
Alibaba, the Chinese e-commerce conglomerate, revealed its first cloud AI accelerator chip on stage at its Aspara Conference held in Hangzhou, China, on Wednesday.
Known as Hanguang 800, it's the first time the company has launched its own silicon, but the chip is not yet in production. Alibaba has no plans to sell the hardware at present, though the new kit is expected to reach the biz's cloud servers at some point for customers to rent.
"The launch of Hanguang 800 is an important step in our pursuit of next-generation technologies, boosting computing capabilities that will drive both our current and emerging businesses while improving energy-efficiency," CTO Jeff Zhang reportedly said. The chip is designed to handle AI inference workloads.
There are few details on Hanguang 800's specs, but here's what we know so far. The chip is based on a 12nm fabrication technology and crams together 17 billion transistors, according to Synced. Alibaba hinted at its performance by announcing a few benchmark figures, using the popular convolutional neural network ResNet-50.
A Hanguang 800 chip running the ResNet-50 can process 78,563 images per second (IPS) and operates at a peak efficiency is 500 IPS per watt. Zhang boasted that it meant Alibaba's silicon was 15 times and 46 times more powerful than Nvidia's T4 GPU and its older P4 model respectively.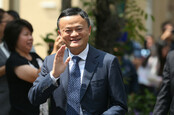 China's cloud market jumps 58%: OK Alibaba, you've lost your Ma but you're still leading
READ MORE
Alibaba has been cranking up its hardware efforts after ex-CEO Jack Ma declared China had to stop relying on US imports. Both countries are still locked in a trade tariff war, slapping higher prices for technical equipment. Ma set up a new semiconductor division, T-Head or Pingtouge - meaning honeybadger in Chinese, to make the company more self-sufficient.
Hanguang 800 is the first chip developed by engineers from T-Head in collaboration with researchers from the DAMO academy, Alibaba's research arm.
The Middle Kingdom movers and shakers have also launched blueprints for its RISC-V based chip, the Xuantie 910 or XT 910 for short, earlier this year in July.
The processor was touted as the fastest and most powerful RISC-V chip to date, with a 12nm 64-bit (RV64GCV) RISC-V design that packs 16 cores clocked at up to 2.5GHz. The XT 910 includes 50 extra instructions to aid a range of tasks, including memory and storage access, on top of the open source base RISC-V instructions. ®