This article is more than 1 year old
Sussex Police gives up on £790k Gatwick drone shutdown probe
No new arrests, no idea what happened
Sussex Police still have no clue what happened during the Gatwick drone fiasco of Christmas 2018 – though the force now claims witnesses saw two small unmanned craft over the London airport during its 30-hour shutdown.
In a statement released today, Sussex Police claimed it received almost 130 sightings during the airport's forcible closure in December 2018 after drones were seen hovering near its boundary fence.
It also said that "through corroborated witness statements", two drones were established to have been flying around.
Flights were suspended for days and prompted a manhunt involving multiple police forces. In August the bill for the investigation had hit £880,000, though today Sussex Police explained to The Register that recharging of overtime bills between the police forces involved had reduced this to a final sum of £790,000.
"The police investigation has centred on 129 separate sightings of drone activity, 109 of these from credible witnesses used to working in a complex airport environment including a pilot, airport workers and airport police," said the police force, which added that "the offender, or multiple offenders, had detailed knowledge of the airport."
Assistant chief constable Dave Miller said in a canned quote: "With support from national experts, we have carried out an exhaustive criminal investigation but, without new information coming to light, there are no further realistic lines of enquiry at this time."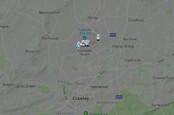 A few reasons why cops haven't immediately shot down London Gatwick airport drone menace
READ MORE
We are further told that witness statements showed drone reports happened in "groupings" over the three-day shutdown on 12 separate occasions. These, said Sussex Police, varied in length "from between seven and 45 minutes." On six of these occasions, witnesses clearly saw two drones operating simultaneously.
Comment: Two drones, eh?
The police statement that the perps had detailed knowledge of the airport could be a smokescreen designed to imply a sophisticated insider job. OpenStreetMap clearly shows Gatwick airport; Google Earth shows it in rotatable and zoomable 3D. Both are free to use. If you know which official publications to read you can also find detailed charts of the airport's ground layout.
On the other hand, that statement could be a hint that police think the drone operators knew precisely when to fly in order to prolong the shutdown – that is, they knew how the airport's security and drone response protocols worked.
Then there's the part about the two drones. Although the police have kept quiet about it today, chief constable Giles York told the press back in December 2018 that some sightings may have been of a police drone that was itself sent up to try and spot the naughty drone fliers. This wasn't explained or alluded to in today's statement.
As it appears that Sussex Police is drawing a line under the whole thing, having arrested nobody (except two innocent people, on the say-so of a malicious neighbour) and found no further evidence, it seems like the Gatwick Drone Incident will go down in history as an example of mass hysteria.
The incident was not deemed terror-related and there is no evidence to suggest it was either state-sponsored, campaign or interest-group led," said the police force. ®