Analyse this: IBM punts off algorithm risk biz
Financial specialist picks up part of Big Blue that eyes up quants' models, trades and more
---
Financial specialist SS&C is buying a bunch of IBM's risk algorithm assets as Big Blue continues to offload areas of the business it deems to be non-core.
No price was given on the deal but given that it involves 350 staff, offices in 25 countries and 200 clients, it must be reasonable chunk of money that exchanged hands. Customers include banks, brokers, hedge and equity funds and asset managers.
IBM originally purchased the analytics products from Toronto-based Algorithmics in 2011 for $387m.
SS&C specialises in most flavours of financial services including asset management, wealth management, insurance and alternative investments.
The current arrangement is a definitive agreement to buy "Algorithmics and related assets from IBM". The cloud-based system allows customers to better deal with risk analytics and changes required by shifting regulations. SS&C believes it will integrate the new lines with its other services.
Big Blue is juggling the pack at the moment and promising more focus on its most profitable and highest growth areas.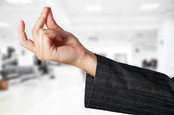 Now you see them... IBM made over 800 UK jobs vanish in 2018 despite improving fortunes
READ MORE
The creaking tech titan will also need all its corporate concentration to ensure that the massive $34bn purchase of open source giant Red Hat, which closed officially in July, brings benefits to the bottom line and does not cause a case of corporate indigestion.
Suggestions that Big Blue did not really know what it bought when it picked up Red Hat were not helped by the leak of a memo trying to get those pesky open source kids to speak proper Big Blue buzzword bingo.
The shape shifting at IBM has also included selling off some unloved assets like Notes and Domino which went to HCL for $1.8bn late last year.
Not to suggest that this was just IBM flogging off outdated assets – HCL believes it is getting its hands on an addressable market of over $50bn from the deal.
Kate Hanaghan, chief research officer at TechMarketView, said buying into new areas and selling off legacy ones are part of IBM's turnaround plan.
"The point is that IBM has to make some choices about where it should place its bets and sink its investment spend. Divestments are crucial and will without doubt continue – as will acquisitions."
IBM CEO, president and chairman Ginni Rometty took to the hotseat in 2011 when revenues came in at $106.9bn. At the end of 2018, revenues stood at $79.6bn. ®
Similar topics
Narrower topics