This article is more than 1 year old
No Huawei: Micron hit by oversupply, US-China trade issues as DRAM sales sliced in half
But says customers at last chowing through memory stockpile
Micron's revenues for its Q4 were dramatically affected by the US trade dispute with China – and Huawei in particular - as well as larger stockpiling and trade uncertainties.
Revenues for the three months ended 29 August fell a whopping 42 per cent to $4.87bn, down from $8.44bn a year ago. Net income, meanwhile, sped down a greasy slide from $4.33bn to just $561m.
The memory and storage kit-making firm also lowered its outlook for its Q1 of 2020 to $5.1bn, which contrasts with the $7.9bn reported back in Q1 '19.
Micron CEO Sanjay Mehrotra sought to put on a brave face, saying: "We are encouraged by signs of improving industry demand, but are mindful of continued near-term macroeconomic and trade uncertainties."
Yep. You can be certain of that, with US President Donald Trump's trade dispute with China nowhere near resolution. The embattled president's administration has barred sales of American software and componentry to Huawei (by placing it on the so-called Entity list), despite since giving it two extensions, prompting Micron's chief to muse: "We see ongoing uncertainty surrounding US-China trade negotiations."
Micron stated Q4 sales to Huawei – its biggest customer – were lower than anticipated. According to IHS Markit, Huawei bought $1.7bn worth of DRAM and $1.1bn worth of NAND in 2018 – not just from Micron.
Idaho-based firm Micron applied for licences with the US Department of Commerce to sell more products to the Chinese firm. But the company said if US restrictions against Huawei continue, it could see a worsening decline in sales to Huawei in coming quarters.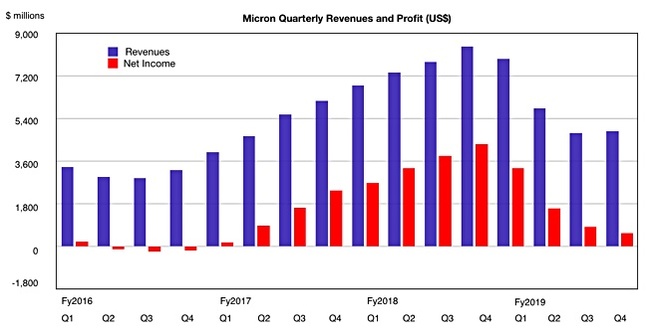 Q3 and Q4 fy19 revenue bars show slump is bottoming out
Full fiscal 2019 revenues fell 23 per cent to $23.4bn and net income fell by a whopping 55 per cent to $6.31bn.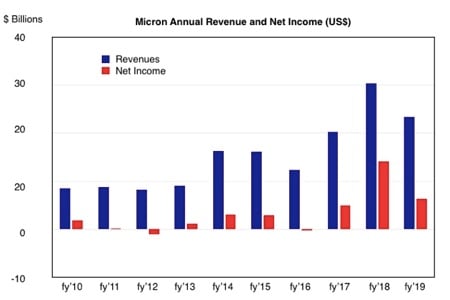 CFO David Zinsner said on a conference call that DRAM sales - at $3.1bn - accounted for nearly two-thirds (63 per cent) of the firm's overall revenues of $4.9bn for the quarter. They were down a striking 48 per cent on the year. NAND sales, 31 per cent of overall revenues, declined 32 per cent.
Free cashflows were $263m for the quarter and $4.08bn for the full year. Micron has $9.3bn in cash, marketable investments, and restricted cash. Making DRAM and NAND eats capital, and Micron expects capital expenditures (capex) in fiscal 2020 to be between $7bn and $8bn. The actual production is going to take a substantial hit, it seems, judging from the earnings call, where Mehrotra admitted "our fiscal 2020 front-end equipment capex [is] to be reduced by more than 30 per cent from fiscal 2019".
The CEO tried to remind all the analysts on the line that they'd been prepared for the worst, and hence the firm had actually "delivered fourth quarter results ahead of expectations... capping a fiscal 2019 in which we executed well in a challenging environment, significantly improved our competitive position, and returned cash to shareholders through share repurchases."
Q4 revenues for Micron's four business units were:
Compute and Networking – $1.9bn revenues – down 56 per cent;
Mobile – $1.4bn – down 26 per cent;
Storage -$848m – down 32 per cent; and
Embedded – $705m – down 24 per cent.
The DRAM and NAND downturns are ending, according to Micron. DRAM demand has bounced back as issues affected the first half of 2019 dissipated, while NAND elasticity – ie lower prices – is driving robust demand. The CEO nonetheless promised Micron would exercise "price discipline" on its DRAM stash, noting: "While we are having to respond to some aggressive market pricing, we have started walking away from some transactions, as we look to optimise our profitability."
NAND bit shipments will be higher than DRAM bit ships in the next quarter.
The firm said customer inventories for DRAM had reduced significantly as they begin to chew through their stockpiles, and that wafer start cuts across the industry were easing the oversupply problem - which would include Micron's own reductions of 5 per cent.
On the other hand, "there may be some level of inventory build", from "customers headquartered in mainland China, some of whom could be making strategic decisions to build higher levels of inventory".
In a bright spot, Micron said it had chalked up record revenue and unit shipments in consumer SSDs and said it was positioned to gain share in the NVMe SSD market in fiscal 2020. It also saw quarterly rises in demand for cloud and enterprise data centre products.
The Idaho memory-slinger said it was on track to ship its first 3D XPoint products by the end of calendar 2019. That will signal the end of Intel's monopoly, at least in XPoint. ®