This article is more than 1 year old
SPARCs fly as Oracle recharges Arm server processor designer Ampere with $40m
Ohm my God
On Friday Oracle said it had invested $40m in Ampere Computing, a designer of 64-bit Arm server-class processors, run by Renée James, who coincidentally also holds a seat on Oracle's board of directors.
In a financial filing, Oracle said it made its investment in April, amounting to less than 20 per cent of the company's outstanding shares, and had appointed one of its board members to Ampere's board.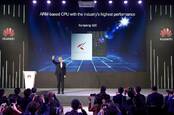 Huawei is planning to inject $436m into Arm-based server silicon
READ MORE
At the time, the chip biz said it had received an investment round from Softbank's Arm Holdings, and the Carlyle Group, but made no mention of Oracle's participation. The database titan said it had paid Ampere about $419,000 for development and testing hardware in fiscal 2019.
Ampere develops processors for cloud and edge servers. It focuses on Arm-based systems because it sees the CPU architecture's balance of performance and energy efficiency as an advantage. Incidentally, Oracle Linux supports 64-bit Arm processors.
James, 55, worked at Intel for 28 years and, in addition to her roles at Ampere and Oracle, is currently an operating executive at the Carlyle Group, an investment group. She also bagged nearly half a million dollars in stock awards from Oracle in fiscal 2019.
Meanwhile, Oracle's SPARC hardware business has been waning of late. In a statement accompanying the company's FY 2019 financial results, co-CEO Safra Catz spoke of "[downsizing] our low-margin legacy hardware business," suggesting SPARC has had its chips.
The IT goliath increasingly has its head in the clouds, talking up its Autonomous database cloud service and shutting down hardware operations like its flash storage group.
Oracle didn't immediately respond to a request for comment. ®
Hat tip to CNBC's Ari Levy for first spotting the Ampere investment in Oracle's Friday SEC dump.