A survey of UK freelancers has found that changes to IR35 tax rules mean some are considering moving to another client if their current client tries to push them into a permanent position.
The changes come into force in April 2020 and put the onus on medium and large employers to decide workers' contractor status and whether they need to switch to full-time staff status, pay national insurance and get benefits like paid holidays. It is estimated that about 170,000 self-employed contractors will be hit by the changes.
Joe Tully, managing director of Brookson Legal, said IR35 would not just affect contractors but also the businesses that employ them.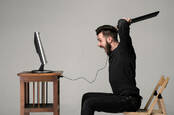 Contractor association blasts UK.gov guidance on hated IR35 tax law's arrival in private sector
READ MORE
"Businesses should be making IR35 assessments an urgent priority and ensure they take reasonable care when looking at an individual's circumstances," he said.
But the survey found that 83 per cent of contractors have still not had a conversation with their current client about the changes and only 22 per cent believe their client will make a correct decision. 59 per cent would consider jumping ship to another if they were considered for IR35.
Almost a quarter of contractors admit they still do not understand all the details of the changes.
But 37 per cent of contractors would never consider moving to staff status, with some considering early retirement or emigrating instead. Over one half of those questioned also believe the changes will discourage people from starting as contractors in the future.
The survey collected over 500 contractor responses. Brookson Legal is highlighting the six-month deadline because previous surveys of employers found that they expected it would take them six months to assess staff for the tax changes.
Certain industry sectors including construction, energy, engineering and IT are particularly reliant on contractor staff.
Contractor associations have previously complained that government guidance on the issue has been woefully inadequate.
With legal challenges in the UK public sector still playing out, it seems that employment lawyers in the private sector will also have a busy period ahead. ®
Similar topics