This article is more than 1 year old
600 armed German cops storm Cyberbunker hosting biz on illegal darknet market claims
Look, it's CB3ROB – remember them?
Cops have seized the physical premises and servers of the Dutch-German ISP that once hosted The Pirate Bay – after storming the hosting biz's ex-NATO bunker hideout with 600 gunmen.
Cyberbunker, aka CB3ROB, was shut down by German police in what appears to be a military-grade operation targeting the hosting firm's Traben-Trarbach premises: a Cold War-era bunker complete with its original anti-intrusion defences.
"Police officers succeeded in penetrating the building, a 5,000-square-metre former NATO bunker with iron doors, which goes five floors deep underground," reported broadcaster Deutsche Welle (DW).
The bunker is around 96km (60 miles) west of Frankfurt.
CB3ROB has a reasonably long history of providing hosting services to what the rest of the world might regard as the murkier ends of the internet. If German police and prosecutors are to be believed, at the time of the raid CB3ROB was hosting several darknet souks, including ones themed around the sale of "drugs, weapons, counterfeit documents and stolen data" as well as allegedly hosting "sites distributing child [sex abuse material]".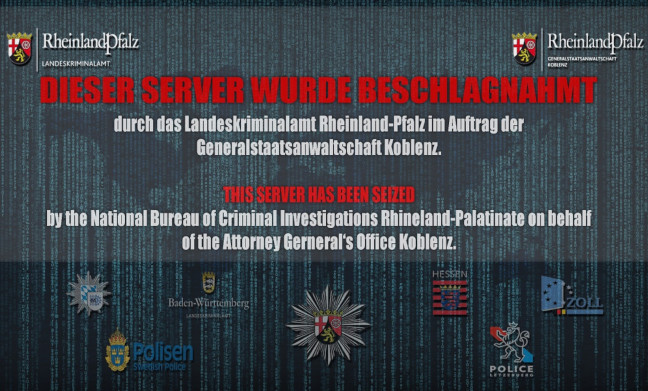 The holding page currently at www.cb3rob.org
DW added: "In the raid, police seized 200 servers along with documents, cellphones and large quantities of cash."
Thirteen people were arrested in the raid last week, made public over the weekend, with their ages ranging between 20 and 59. Police had named none of them at the time of writing.
Over on the Facebook page (Facebook account required to view; posts are public) of CB3ROB head honcho Sven Olaf Kamphuis, the news of the raid didn't go down well.
Kamphuis described the raid as an "act of war", going on to say: "ISPs do not need to know who the customer is, ISPs do not need to know what the customer does (and even if they do know, it doesn't make them liable – as long as there is no ACTIVE cooperation in the activity)."
German law says ISPs cannot be held liable for the activities of their customers unless, roughly speaking, they actively collude in it. Kamphuis also posted a lengthy history of CB3ROB, which appears to have been machine-translated into English; he appears to be claiming that the bunker was some kind of independent nation state and that he is actually called HRH Prince Sven Olaf of CyberBunker-Kamphuis.
The 600-strong police operation to storm the bunker and arrest everyone in it reportedly included forces from GSG 9, Germany's federal paramilitary police unit.
CB3ROB was most well known to Reg readers around a decade ago when it was slapped with an injunction from the Motion Picture Association of America forcing it to stop hosting The Pirate Bay, the notorious copyright-breaching torrent site.
A little later, CB3ROB was caught up in the fallout from the infamous Spamhaus DDoS attack. Dutch ISP A2B Internet complained to local police after Spamhaus, an anti-spam project at its heart, allegedly "blackmailed" the company into dropping BGP routes for CB3ROB's traffic. ®